Our real estate market here in San Jose, CA, and greater Silicon Valley has been slowly gaining momentum back as mortgage rates have improved from overall economic stability. The news this month is definitely in favor of homebuyers though, as today's mortgage rates are hitting historic lows again, which hasn't happened since 2016!
So, homebuyers, pay special attention as you'll definitely want to hear about exactly what's been happening in the economy to create our current low-interest-rate environment, how our market is reacting, and how you can take advantage of it.
It has been quite wild in the financial markets lately. 
In response mainly to the "trade war" with China and the fact that inflation remains extremely low, the Federal Reserve Board (FED) cut the federal funds rate as expected in their July meeting. This action, however, had very little immediate response in the financial markets as was expected. Although, overnight investors began to focus on the fact that the FED seemed likely to continue an easing fiscal policy, which means they're likely to cut the Fed Funds Rate again this year. That morning, the 10-year Treasury bond yield, which is the index mortgage rates tend to follow the most, began it's quick descent, falling from approximately 2.04% down to 1.5% in a little over two weeks.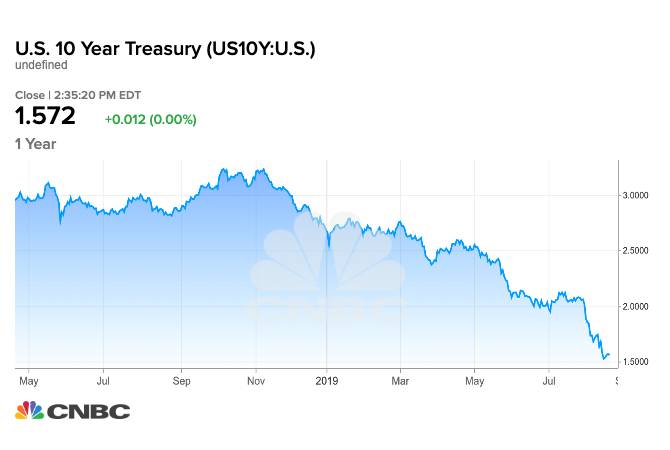 That is major news…as the 10-year Treasury bond yield hasn't been below the 2.0% since 2016, which is finally allowing interest rates to fall back to historically low levels. We are talking about as much as a 1.0% drop in mortgage rates compared to the same time last year, and even lower for certain mortgage products.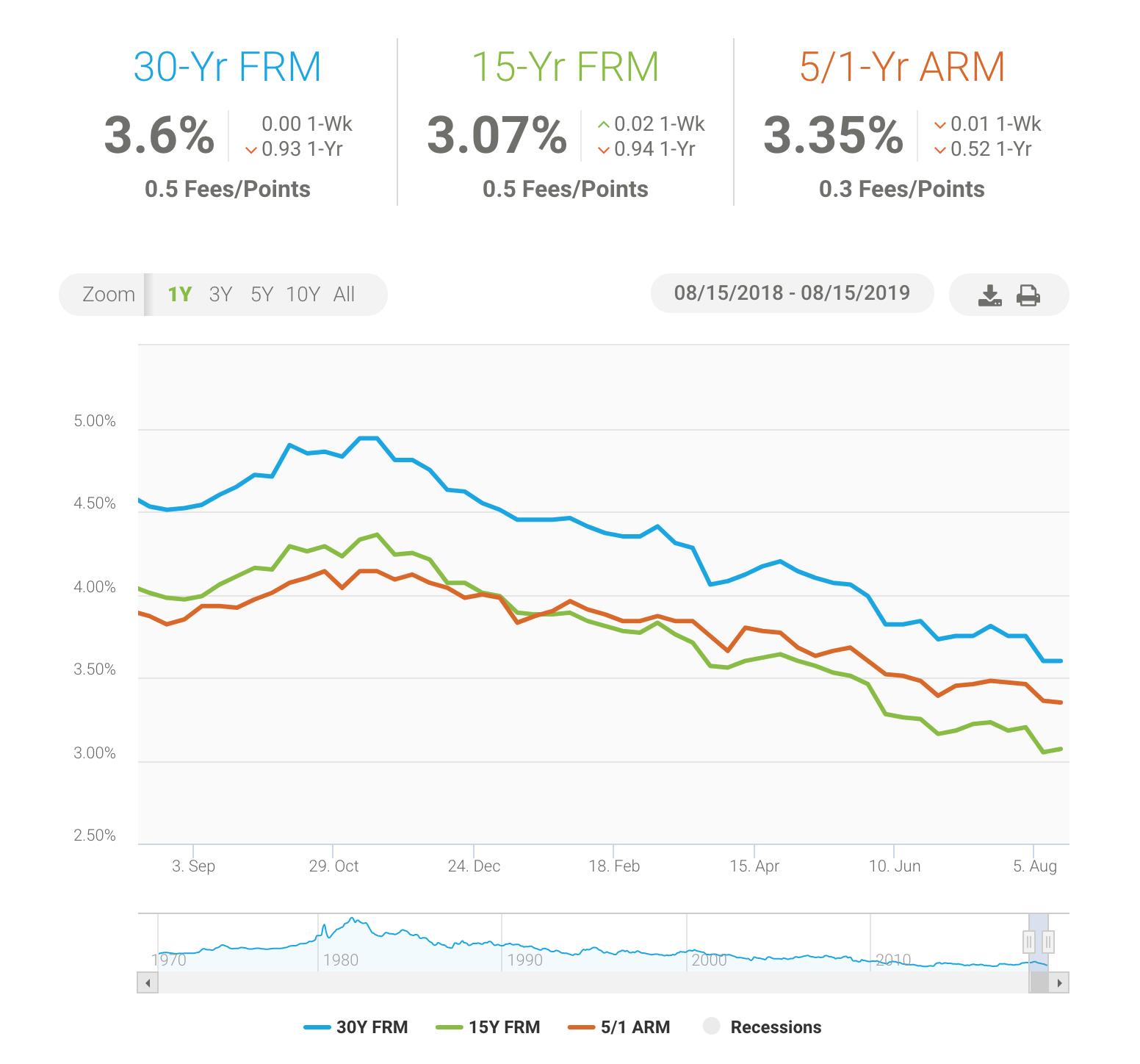 How does this impact a homebuyer?
Well, the decrease in interest rates is HUGE for homebuyers! Anyone that had been previously approved for a mortgage last year, or even at the beginning of the year, just received a major boost to their affordability. For example, a typical $1,000,000 pre-approval just got boosted by $175,000 on average with the recent 1% drop in interest rates! which means that if a buyers max purchase price was $1,000,000 at the higher interest rates we had less than 12-months ago, they can now afford up to $1,175,000…providing homebuyers with more choice for inventory levels, communities, property types, and more.
So, if you're still in the market for a new home, and you haven't updated your pre-approval in a few months, it's a great time to find out how these low rates have improved your purchase power. And, if you have purchased a home, then now is the time to revisit your mortgage rate and have a conversation about refinancing…this is especially true for anyone the made a purchase last year in 2018 to the beginning of this year.
Now, let's shift gears and get into some market data with a quick discussion about Supply & Demand…
First, we're continuing to see a downward trend in inventory levels with 2,138 units currently listed for sale in Santa Clara County (down 7% from last month, but still up 5% from last year). And, 1,100 units currently Active in San Jose (down 6% from last month, and almost on par with our inventory level from last August).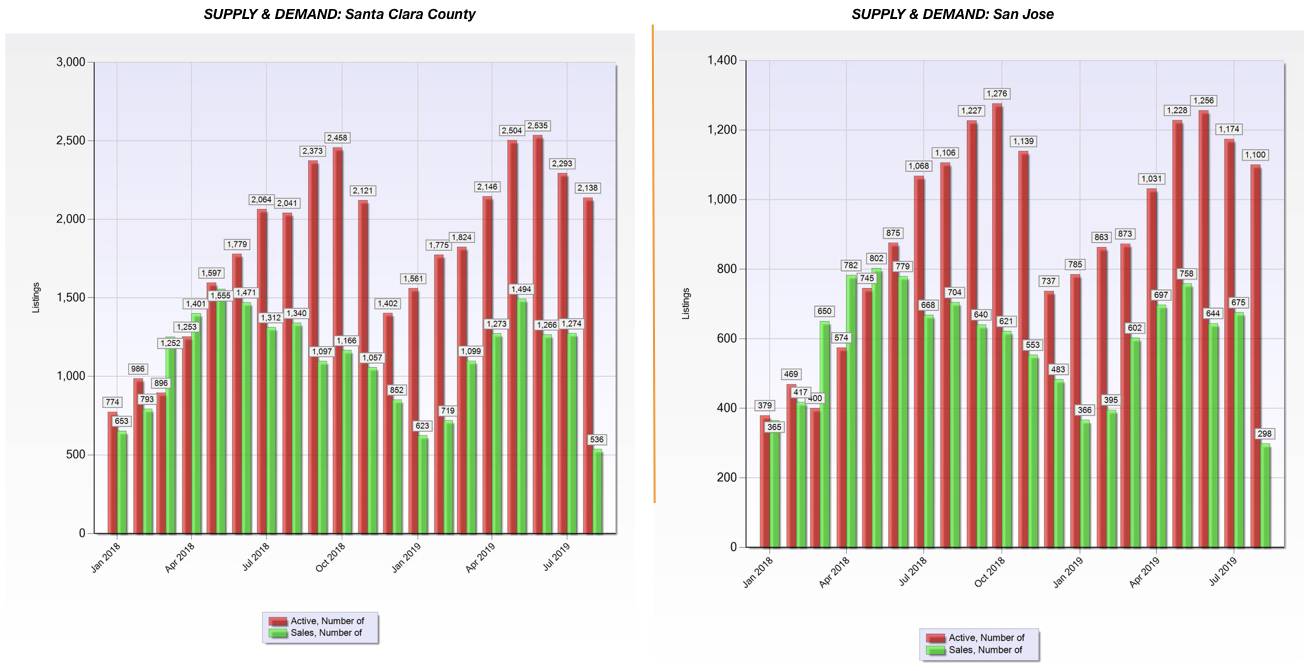 Looking at buyer demand, last month at the County-wide level there were 1276 homes that received a contract (up slightly 3% from June, and up 6% from last year). And, in San Jose, we had 692 new contracts ratified (up 8% from the previous month, and 8% higher than the same time last year).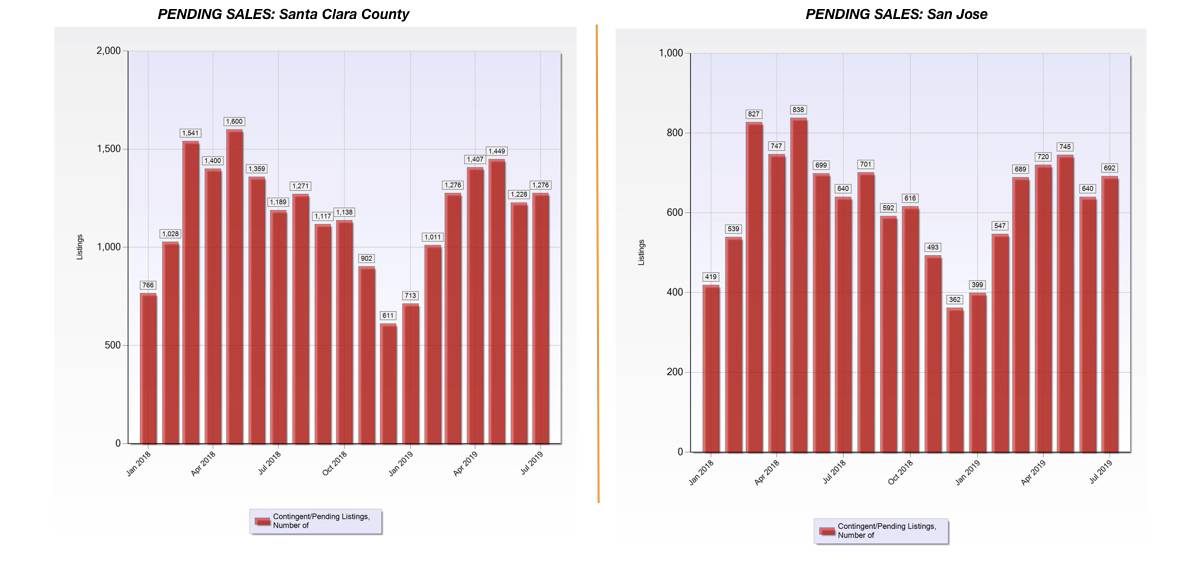 Now, let's talk about affordability real quick…If inventory levels are beginning to fall, and demand for housing is stable, are prices jumping through the roof again this year?
Well, not quite like we experienced at the beginning of 2018. Although our median sales prices for Santa Clara County are UP almost 13% from the prices reported at the beginning of this year, they finally seem to be stabilizing as the median sales price for July just reported it's first dip coming in at $1,155,000, down 3% from last month. Of course, many could argue that this year's price appreciation is just a rebound since the median sales price in 2018 did close the year down 20% from the exorbitant peak prices reached that Spring. But given that we're now only off 3.0% from last year's prices, I would say that the market is regaining momentum especially with the lower interest rates we've just been gifted.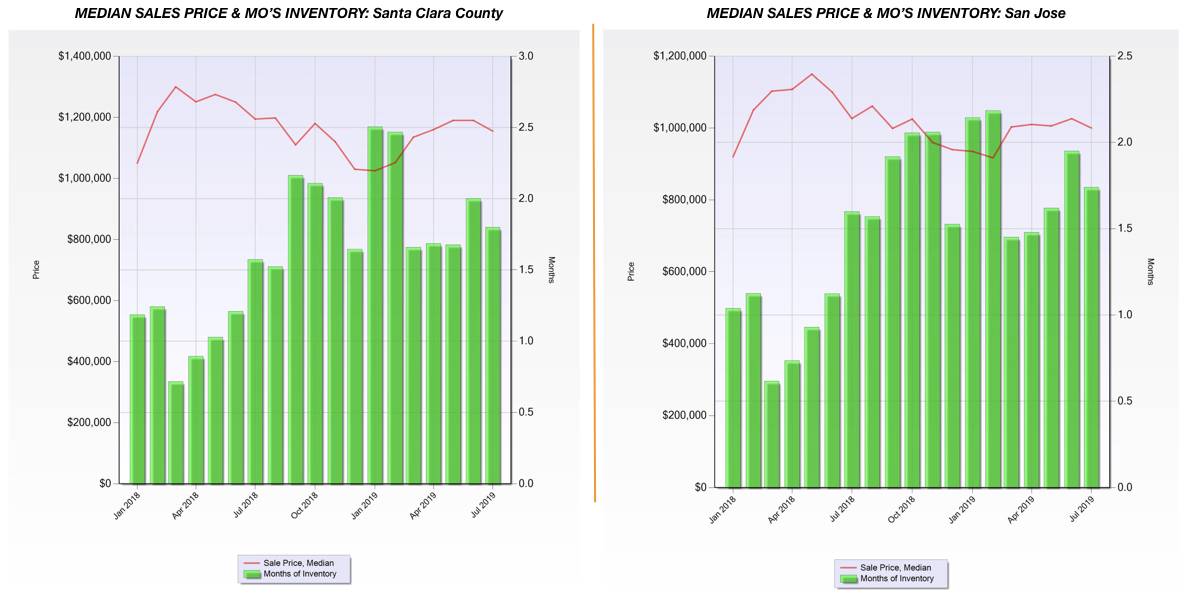 What can YOU expect if you're thinking about making a move in real estate this year?
#1 – We are still in a seller's market
Although inventory levels are higher when compared to last year, in overall months' worth of inventory (a popular gauge on the market) our levels continue to remain well below the 6-month mark in most price-ranges. This statistic supports that we are still experiencing a seller's market as anything less than 6-months is considered favorable to sellers.
That being said, the housing market acts like a tug-of-war competition between buyers and sellers. With steadily declining interest rates there has been and still seems to be enough buyer demand to support overall price stability. But, this doesn't mean that a home seller can necessarily list a home at any price and expect it to sell within a week. Current Days on Market has increased, and we're noticing a lot of price reductions for homes that have been languishing in the market.
So caution to home sellers; you may be surprised to find out that your home's value is not equal to what Zillow says. Always work with a knowledgeable Realtor to ensure success and avoid lengthy days on market and price reductions.
#2 – Buyers Like Higher Inventory Levels & Lower Interest Rates
Market conditions for homebuyers haven't been this favorable for a long time. Currently, active buyers have more inventory to choose from, the ability to lock in lower housing costs, and depending upon the days on market for any particular property, they have much more leverage this year than last.
So, if the thought has crossed your mind, whether getting into your first home or moving up into your Next Home, now is definitely a great time to strike up a conversation with your favorite Realtor to find out how things are shaping up in the price range and locations of your choice. And remember, when making a move in real estate, a solid strategy is essential for an optimal outcome, so be sure you plan ahead and work with a knowledgeable professional!