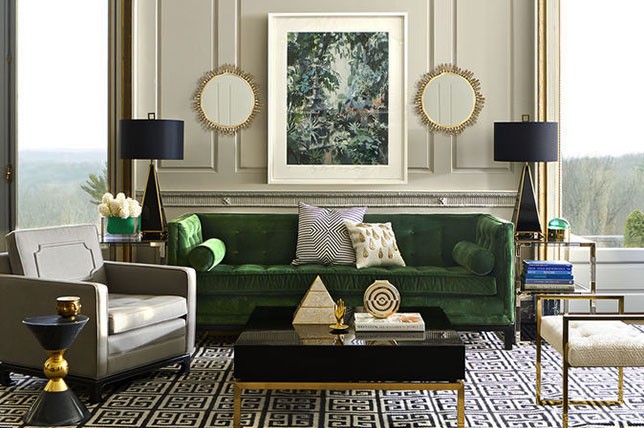 Rose gold, subway tiles and exposed lighting were some of the top home decor trends of 2018. 2019 has brought us new decorating patterns, stylish, timeless pieces to fresh takes on old styles and offers fantastic home design trends. Read on and watch out for the trends our senior designers say will make their way into your home.
ARTISANAL FIXTURES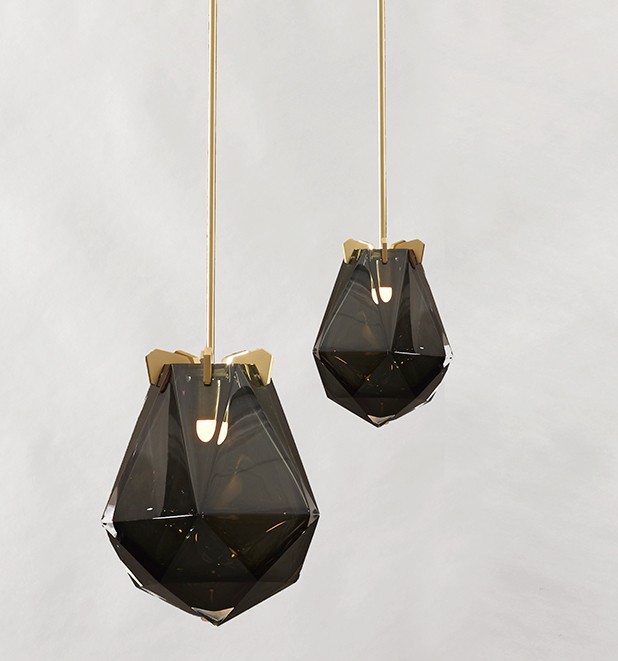 Like velvet pieces many designers have noticed a shift and that more decorators are partial to fixture from local artist and small businesses, especially lighting. Artisan fixtures personalize your home, and like natural elements, helps shifts homes focus from the tech world to the natural world.
Image via: Gabriel Scott
NATURAL ELEMENTS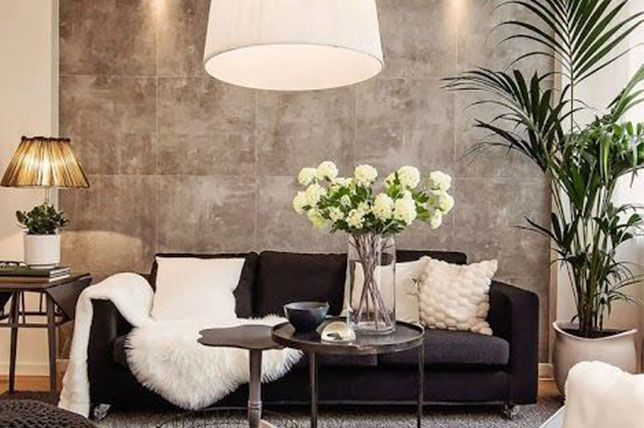 Stepping away from the tech-obsessed decor we saw dominate the 2018 design trends, 2019 move towards fresh, natural materials such asstone, copper, concrete, and granite. These elements will help bring an organic and serene ambiance to any space while reflecting the world around your home. Get some ideas on how to add natural elements to your urban abode
Image via: South Shore Decorating
VELVET FURNISHINGS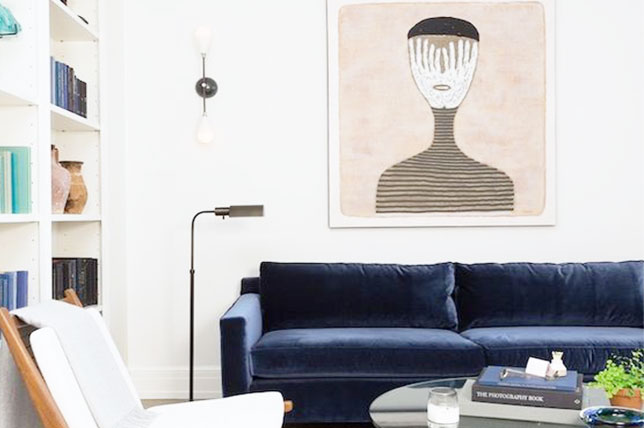 Believe it or not, velvet was seen as old fashion and stuffy, now viewed as a luxurious yet funky. This multi-dimensional fabric has already started gaining a lot of attention, leading many designers to believe velvet decor will be one of 2019's most sought-after trends. Get inspired by our designers selection of velvet sofas
Image via: French By Design
FLORAL PATTERNS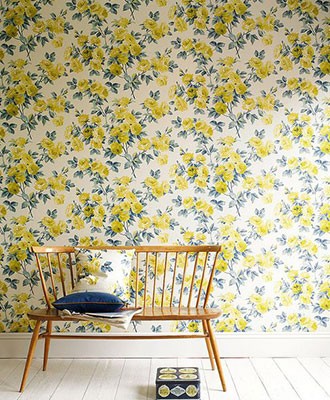 This decorating trend has been around for awhile, in the upcoming year. However, we will see floral patterns in a new light. Decorators expect to find exaggerated proportions and contrasting colors used for this timeless decor pattern.
Image via: DigsDigs
COPPER ACCENTS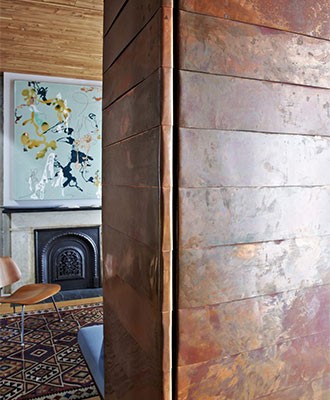 Rose gold was one of 2018's most used decor trend, yet for 2019 we are expecting to see less rose gold and more copper accents, along with a mixture of other metals. With it's red and orange tones and overall earthy hue, copper is a much-needed breath of fresh air for the new year. Don't forget to check our guide for including Metallic objects into your home.
Image via: Michel Arnaud
RICHER COLOR PALETTES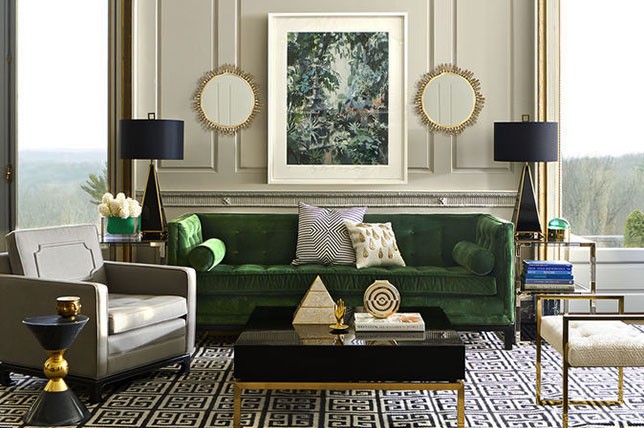 Though muted colors can help you avoid making spaces feel overwhelming, designers believe that 2019 will be a year where bolder colors are preferred. Richer hues throughout your home can make your more muted furnishings and decorative decor pop. Lookout for dramatic reds, statement pinks, bold yellows and organic greens.
Image Via: Jonathan Alder
BRASS DECOR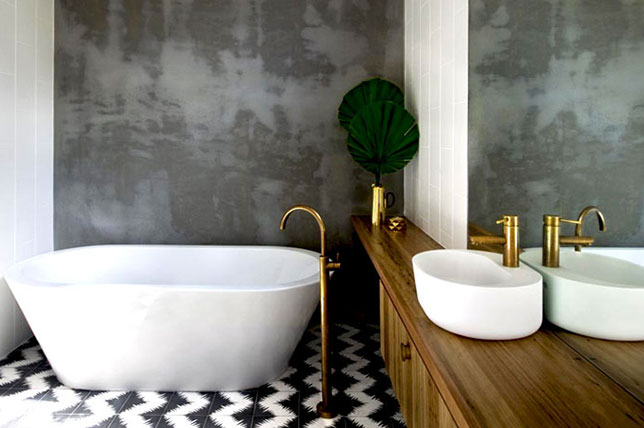 2019 is setting up to be a year where we wave goodbye to stainless steel and polished nickel, and welcome brass accents back into our homes. Brass is a surprisingly warm and subtle alternative to the expected steel accents.
Image via: Interiorzine
BLACK & WHITE DECOR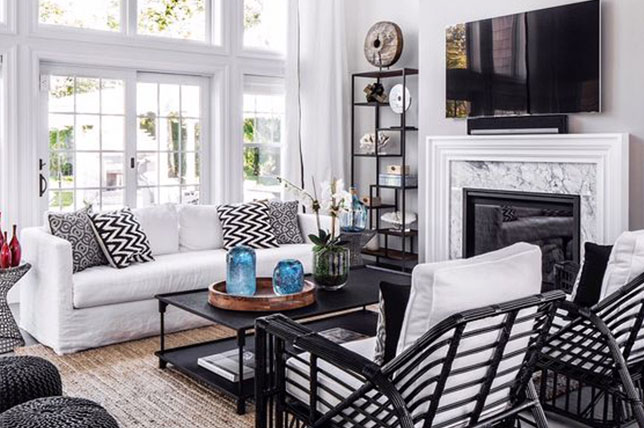 A truly timeless design trend, black and white furnishings will want to be on your list of trends to incorporate into your home's decor this 2019. The visual contrast of black and white will provide a sense of balance and boldness to your home's space. Need some inspiration? Read our tips to decorate with black and white
MILLENNIAL PINK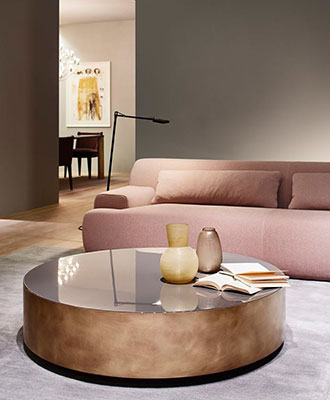 A massive hit in 2018, this trendy hue is getting a lot of attention. We've already seen this pink shade make its way into home decor and fashion, but for 2019 get prepared to incorporate this hue in new creative and unique ways, as an easy way to update any space.
image via: Style & Minimalism
TONAL REDS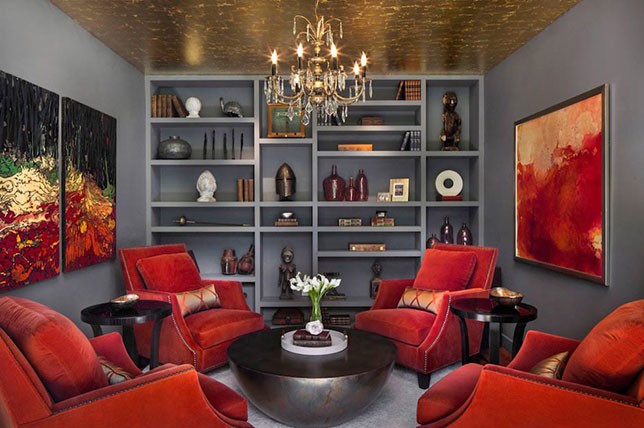 The past few years we have seen designers and homeowners gravitate towards cooler colors such as blues and greens, so we are excited that warmer tones are going to be in for the new year. Tonal reds are a great way to add complimenting contrast while providing the warmth that makes your home more inviting
GEOMETRIC PATTERNS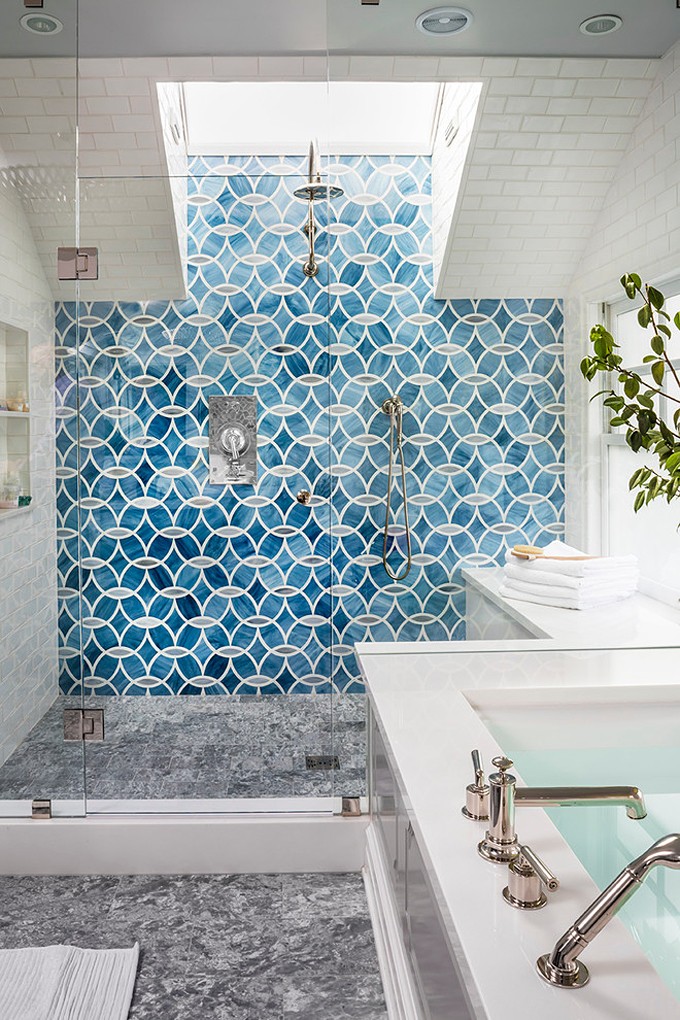 Similar to floral patterns and brass decor, incorporating geometric patterns is no new trend. Yet for the new year geometric patterns are expected to become a dramatic presence. Colors will be bolder with oversized patterns. This is a trend that will help make a bold statement in any room. A chic and easy way to incorporate this pattern into your home decor is adding geometric throws.
Image via: House of Turquoise
CONCRETE ACCENTS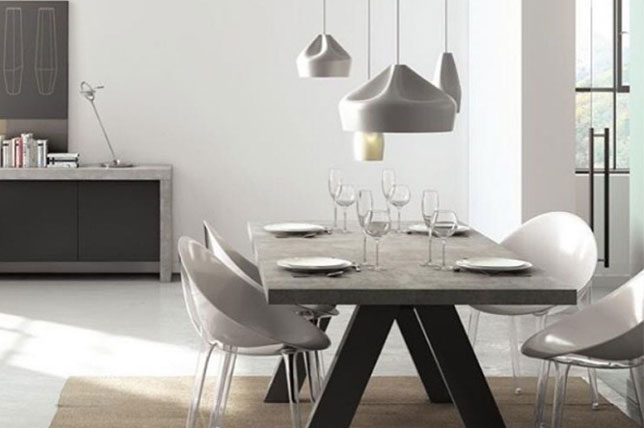 Some may wonder why concrete has left the construction zone, yet 2019 will be the year it steps into many homes decor. Providing a crisp, clean look that's easy to compliment Concrete isn't just for countertops. Geometric concrete tiles will become increasingly popular and pair two of next years hottest design trends into one stylish piece.
Image via: Real Style New York
VINTAGE LIGHTING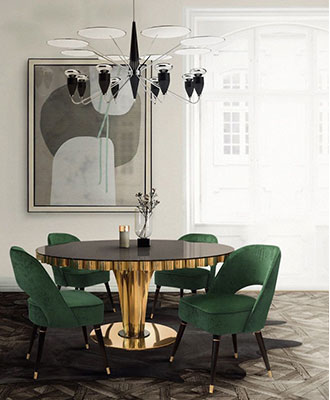 A trend that many will be shocked to see making its way back into the new year. The vintage lights we are expecting to see will be less exposed lighting and more of vintage pendants and sconces, in brass and copper finishes. 2019 will be a year where trending designs come together in unison.
Image via: Pinterest
BUCKET SINKS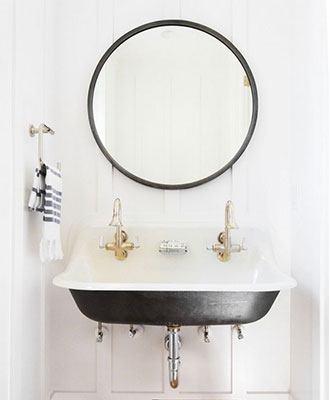 Also known as Trough sinks, bucket sink joins the list of vintage design trends that are predicted to make a massive comeback in the next year. Farm-house inspired, these pans are family friendly and will add personality and a touch a nostalgia to any kitchen or bathroom.
Image via: Pinterest
BURNT YELLOW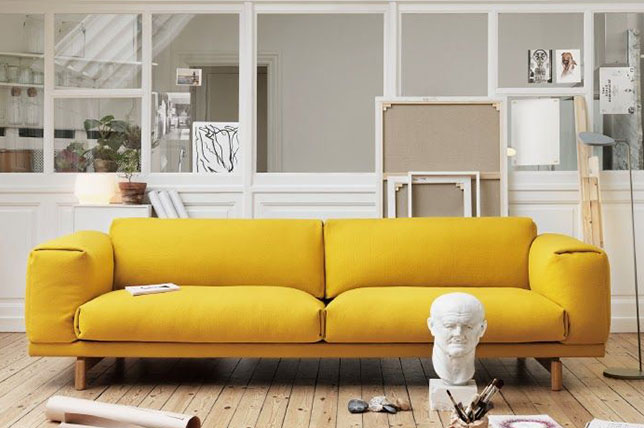 Previously this shade of yellow was seen as too overwhelming and dramatic, yet in the coming year, the bolder the better. Yellow is a color that exudes happiness, confidence, and cheer. Whether used in accents or statement pieces, burnt yellow is sure to make your home feel joyous in 2019. If you feel that this is a risky color, read our designers  guide to incorporate yellow accents
Image via: Home Edit
70'S CHIC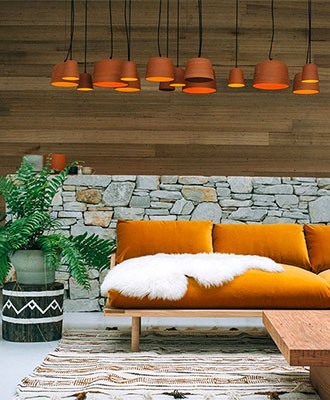 With many old design trends coming back in style this 2019, such as velvet and geometric patterns, our designers are expecting to see many nods to the 70s era. 70's chic decor is all warm palettes, funky textures, and abstract silhouettes. Incorporating this trend into your home will bring out amazing personality into every living room or bedroom design.
Image via: Trend Scout
AGATE WALLPAPER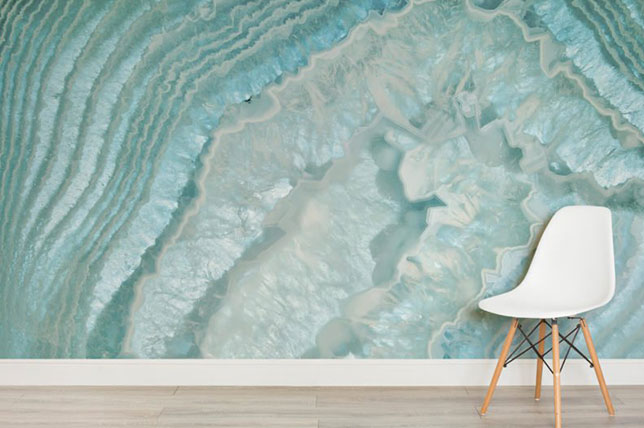 Many seem to stay away from wallpaper in general, yet 2018 was a year that saw wallpaper used in more homes. 2019 will be no different, and it is all in print. Agate wallpaper is making a splash for its pops of colors, and its natural ununiformed lines and colors perfectly marry both the bold and natural trends we expect for 2019.
MATTE FINISHES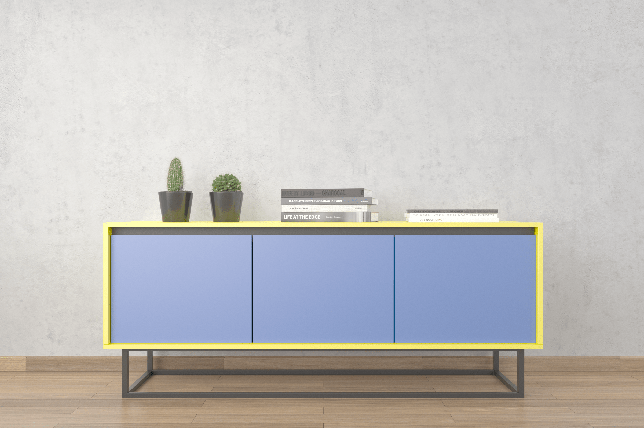 From beauty products to customized cars, technological advancements have made matte finishes all the more alluring and viable. Compared to the dramatic effect that high-shine finishes conjure, matte finishes lend furnishings a more relaxed, however, futuristic appeal.
Take this sleek console brought to life by a sensational yellow and periwinkle color combo. In a more traditional color combo it would have come off as standard. And if it were finished with a high-gloss effect, it would come off as overly loud. Instead, thanks to its matte patina, it'll lend any room a quiet sense of dignity and grace while remaining ultra-cool.
For a similar effect, look for matte finished furnishings that boast unexpected hues and silhouettes, or go for classic styling as when a piece is finished with a matte technique, it will remain forever-cool.
CANOPY BEDS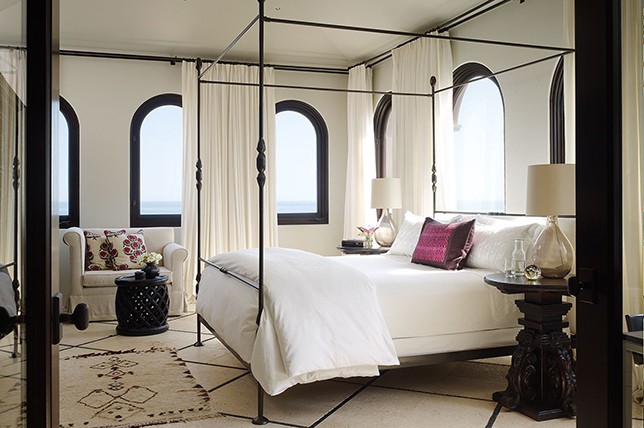 Though they haven't been in vogue since the late 80's, we've seen a steady rise in clients requesting updated takes on grand canopy beds. It could be because hotel inspired bedroom suites have been all the rage over the past decade, or it very well could be that people are seeking out the ultimate comforting oasis.
Whatever the case, minimally minded canopy beds are readily available in an endless array of options. And since they usually boast a slim silhouette and elements, they can now fit in almost any room with ease without coming off as overbearing and unnecessary. To make one work in your bedroom, follow suit and source a canopy bed that is quiet and slim to ensure that it won't take up too much space or ever go out of style.
Image Via: Murals Wallpaper 
WRITTEN BY COURTNEY ESTAY – First published on Decoraid.com