Where are you working at home?
For those of us who have jobs that allow us to work remotely, the swift decision to move to online operations was relatively easy to implement. Many of us have designated spaces in our homes that we use as offices. It could be an actual room; a desk in the extra bedroom, or an area in our basement.
For those who suddenly found themselves working remotely for the first time, the transition may have been more problematic.  Home computers or laptops may not be as powerful as the one on the desk in work. The "home office" might be the kitchen or dining room table shared with children doing school work.
The number of people working at home has grown dramatically since 2004.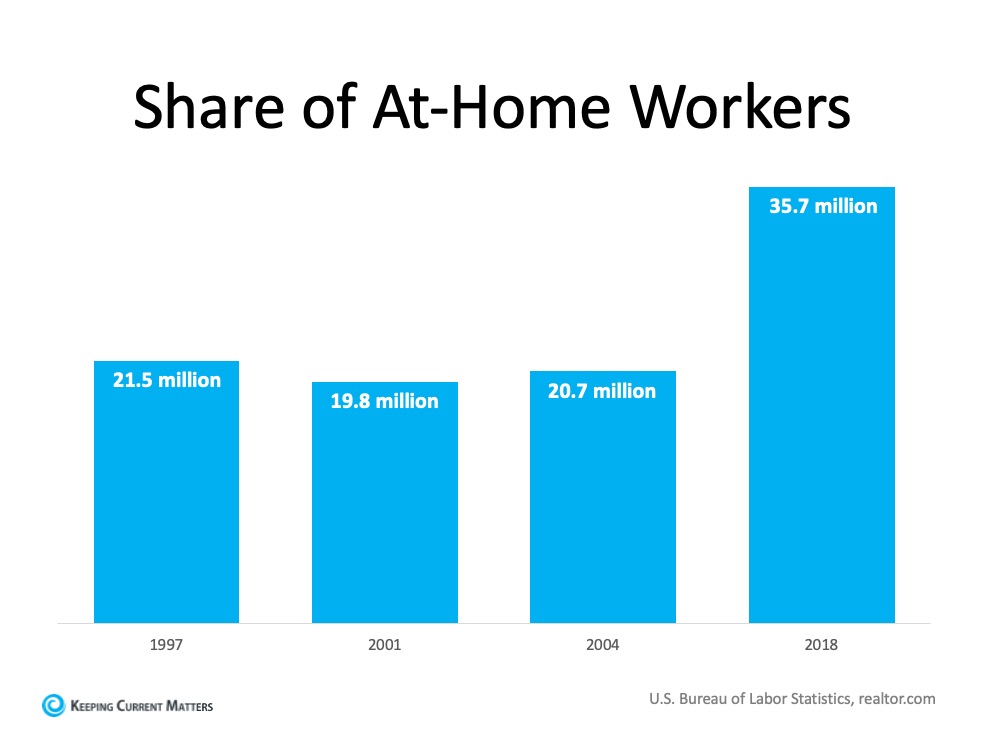 This increase – coupled with our coronavirus experience – has prompted realtor.com to suggest that:
"For housing, the continued increase in the share of remote workers implies that demand for homes with offices or dedicated work spaces will continue to increase. The current coronavirus pandemic offers a dramatic indication of the fact that companies and employees will have to develop plans and clearer policies for remote work beyond the current crisis."
Some key elements of a home office include bright natural light with large window; built-in bookshelves, or a quiet and secluded area. If your home does not have a space appropriate for a home office, you might consider creating something for yourself now and as a selling point to potential buyers when you decide it's time to market your house.
Remote work may become more widely accepted as this current crisis teaches businesses about what it takes to function virtually. We know of one local company that has already decided to issue new hires a laptop and other equipment so they can work remotely.
So, what seems like a business challenge today may be more of the norm tomorrow. With that in mind, if you have a home office, your house may be more desirable to buyers than you think.
---
As you know, we dedicate a portion of the proceeds from each of our closings to a non-profit organization.  From our closing last week, we decided to provide Saturday night dinner for the members of the Sandwich Fire and Police Departments.  With the virus, these men and women are putting their health on the line every time they respond to a call that requires them to enter someone's home.
Thanks to JD's Burger Company in Sandwich, one of our favorite take out places, for cooking up a great meal. Please support them and all the restaurants that are staying open. Their employees need jobs to return to when we get back to normal life.
---
We're working at home and remain available to answer any questions you may have about the housing market now and where we may be headed over the next few months. Please contact us at 508-568-8191 or msennott@todayrealestate.com. Thanks…
Stay healthy; stay optimistic…
Mari and Hank
Website: www.makeyourmovewithmari.com