There's one question were consistently asked: "Why is it so hard to find a house?"
The answer is that we're in the midst of the ultimate sellers' market, which means real estate is ultra-competitive for buyers right now. The National Association of Realtors (NAR) says homes are getting an average of 4.8 offers per sale, and that number — and prices — keep rising.
On Cape Cod, 43% of all transactions that closed in March 2021 were for above asking price, compared to 11% in March 2020 and 9.5% in March 2019.
In addition, the median sales price for a single family home in Barnstable County rose to $653,500 last month, setting a new record high for median sale price on Cape.
Why?
It's because there are so few houses for sale.
New listings in March on Cape for single-family homes were 391 and 93 for condominiums. This is a 18 percent decrease, and a 19.1 percent decrease respectively from last March, which had 477 new listings for single-family homes and 115 new listings for condominiums.
At the end of this March, there were 346 single-family homes for sale and 131 condominiums for sale in the Cape Cod & Islands Multiple Listing Service. Last March, there were 1,567 single-family homes and 446 condos listed for sale, a 77.9 percent decrease, and a 70.6 percent decrease, respectively.
Low inventory in the housing market isn't new, but it's becoming more challenging. Danielle Hale, Chief Economist at realtor.com put it simply: "Buyers can't buy what's not for sale."
While many homeowners paused their plans to sell during the height of the virus crisis, this isn't the main cause of today's gap between supply and demand. (But, the lack of current homeowners looking to upsize, downsize or move to that someday neighborhood certainly isn't helping…)
Sam Khater, Vice President and Chief Economist at Freddie Mac's Economic and Housing Research Division, says that the main driver of the housing shortfall is a long term decline in the construction of single family houses, which has resulted in a decrease in the supply of starter homes.
When you consider the number of houses built in the U.S. by decade, the serious lack of new construction is obvious. (See graph below)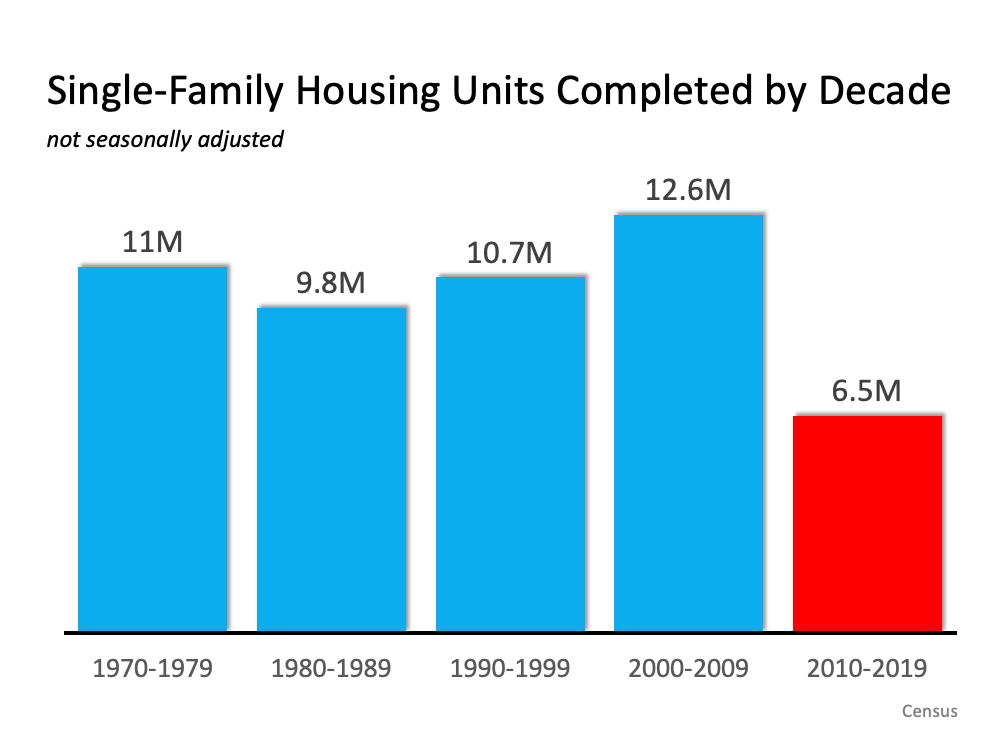 To catch up to current demand, Freddie Mac estimates we need to build almost four million homes. The good news is that nationally there were 1.74 million housing starts in March – the highest in 14 years. Experts say the industry will need to keep that pace for three years to make up for the shortfall.
If you're planning to buy this year, the key to success is being patient and working with real estate professionals — like Mari Sennott Plus — who know the Cape Cod market and can guide you through this very competitive environment. Providing our clients with the best advice has been our full time job for more than 20 years. So, let's connect at 508-568-8191 or msennott@today realestate.com to review your options.
Your new home is out there waiting for you. It's just going to take a little longer to find it.
Don't wish for it; go for it!
Mari and Hank
PS: If you've been thinking about selling, what are you waiting for?? Let's talk soon…