Sometimes it can feel like everyone has advice when it comes to buying a home. While your friends and loved ones may have your best interests in mind, good old Uncle Harry, who "knows a little something about real estate," might not be aware of critical information about today's housing market that you need to make your best decision.
Before you decide whether you're ready to buy a home, you should have the answers to these three questions.
1. What's Going on with Home Prices?
Obviously, prices are the major factor directly impacting how much it will cost you to buy a house and how much you stand to gain as a homeowner when prices appreciate.
This graph shows just how much experts are forecasting prices to rise this year.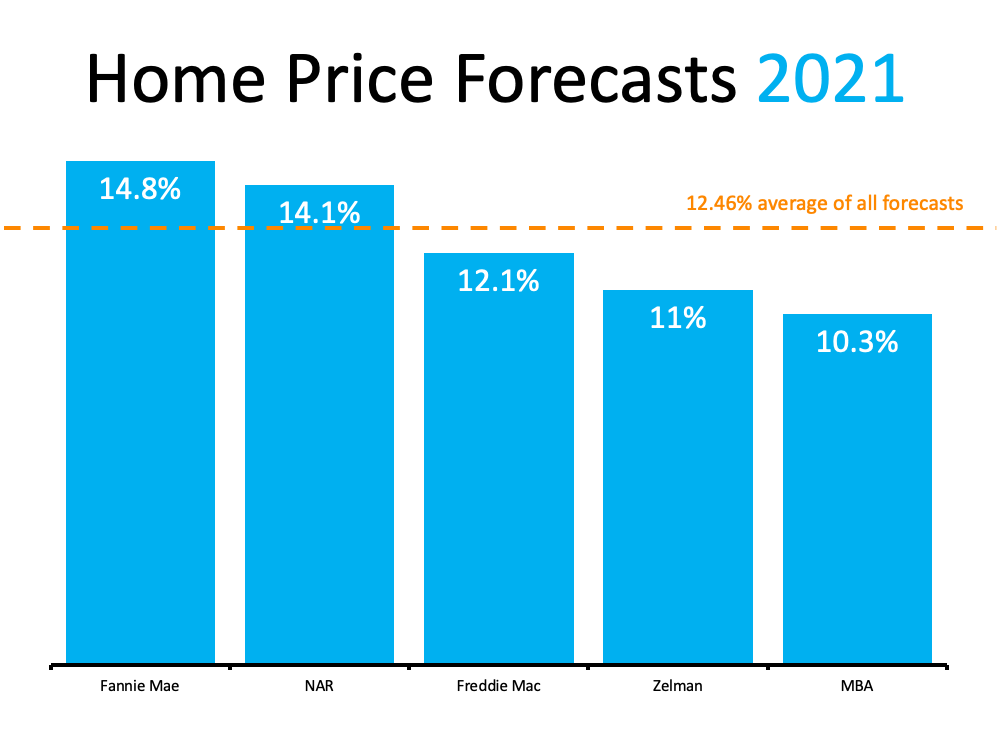 Continued price appreciation is great news for existing homeowners, but can pose a significant challenge if you wait to buy.  Using these forecasts, you can determine just how much hesitating could cost you.
For example, if prices increase based on the average of all forecasts (12.46%), a home priced at $350,000 in January 2021 will cost an additional $43,610 by the end of the year. What does this mean for you? Simply put, with prices increasing, the longer you wait, the more it could cost you.
Year to date, median sales prices on Cape Cod have increased nearly 35% when comparing 2020 and 2021. A home that was $447,500.00 a year ago now costs $603,000.00.
As we've mentioned before, the market appears to be "moderatin" on Cape with out of sight offers not as frequent as earlier in the year. This is good for buyers who dropped out because competition was pushing prices above budget, but potential opportunities lost for sellers, who stayed on the sidelines.
2. Are Today's Low Mortgage Rates Going To Last?
Another significant factor that should inform your decision is mortgage interest rates.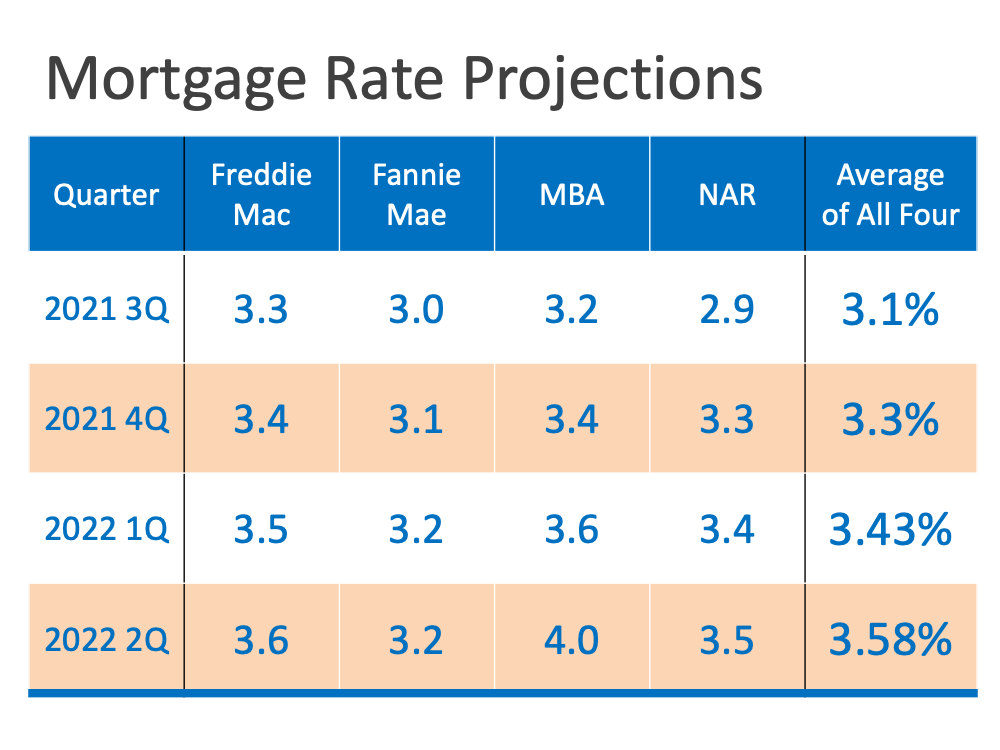 Today's average rates remain close to record-lows. To put that in perspective, some of us can remember buying our first homes when rates were 15-16%!
Much like prices, though, experts forecast rates will rise over the coming months, as the chart shows. Your monthly mortgage payment can be significantly impacted by even the slightest increase in rates, which makes the overall cost of the home greater over time when you wait.
3. Why Is Homeownership Important to You?
The final question is a personal one. Before deciding to buy, you'll need to understand your motivation and why homeownership is an important goal for you. The financial benefits of owning a home are often easier to explain than the many emotional ones.
The 2021 National Homeownership Market Survey shows that six of the nine reasons Americans value homeownership are because of how it impacts them on a personal, aspirational level. The survey says homeownership provides:
Stability
Safety
A Sense of Accomplishment
A Life Milestone
A Stake in the Community
Personal Pride
Homeownership is life-changing, and buying a home can positively impact you in so many ways. If you're ready to begin your journey, we'd be happy to answer any questions. Just reach out at 508-568-8191 or msennott@todayrealestate.com to start the conversation.
Talk soon…
Mari and Hank