It's no secret that one of the top stories in today's real estate market is the low housing supply and high buyer demand. If you're a first-time buyer looking for a starter home or if you're someone who's interested in downsizing, it may be worth considering a condominium as an option.
In fact, trends indicate condos are gaining popularity among buyers. In the latest Existing Homes Sales Report from the National Association of Realtors (NAR), the data shows condo sales rising throughout the first half of this year (see graph below).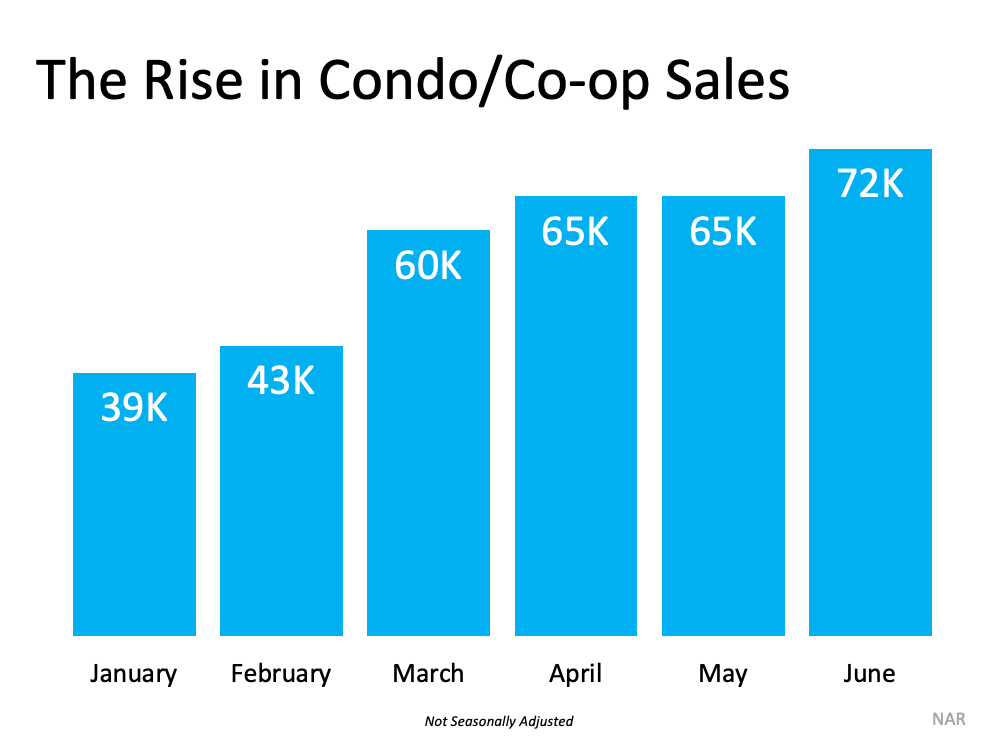 There are a few reasons more people are opting to buy condos – the benefits of condominium life can be quite compelling. Let's explore the main perks to find out if a condo is a good fit for you.
Affordability
According to the NAR report, the median sales price of a condo nationally is roughly $59,000 less than the median price of a single-family detached home.
Here on Cape Cod the price differential is significantly larger. Year to date (YTD), the median sales price for a condo is $351,450.00, while the median price for a single family home is $601,000.00!
In our hometown of Sandwich, the median sales price of a single family home YTD is $551,500.00, while the median price of a condo is $292,750.00.
This makes condos a great option for first-time homebuyers, those with limited down payment savings, or those looking to save money by downsizing.
Maintenance
A recent article from BankRate adds low maintenance as another perk of a condo lifestyle.
Generally, exterior maintenance for condos is handled by a Homeowner's Association (HOA). This can include landscaping and upholding a certain standard of cleanliness and condition for walkways, siding, and roofs. If you're looking for a lower-maintenance option or see the appeal in being hands-off with upkeep, condos may be a good choice for you. With exterior maintenance off your plate, you'll have more free time for yourself and recreational/social activities.
Amenities
You can use that free time to enjoy some of the value-added features your condo community may have, which could include pools, a rentable clubhouse and grilling areas. If being able to host or attend community social outings is important to you, condominiums may give you more opportunities to enjoy the company of your neighbors. As a bonus, some even have gyms and on-site security teams.
If you've been frustrated looking for a home, it may be time to consider a condo as a viable alternative. As with any real estate investment, the decision to buy a condominium can be influenced as much by price, as a desired lifestyle.
As always, if you have questions about the Cape Cod real estate market, in general, or condominiums, in particular, please reach out to us at 508-568-8191 or msennott@todayrealestate.com. We're happy to help.
Talk soon…
Mari and Hank