Many potential buyers and sellers have questions right now regarding the real estate market as we head into 2022. The forbearance program is coming to an end and mortgage rates are beginning to rise.
With this uncertainty, anyone with a megaphone – from the talking heads on your favorite cable news network to a lone blogger – understands that bad news is good for their business. So, we'll be seeing a rash of troublesome and frequently uninformed headlines over the next few months.
Here are two recent ones you may have seen.
1. Foreclosures Are Spiking Today
There are a number of stories circulating that highlight the rising rate of foreclosures. Those stories focus on an overly narrow view on that topic: the current volume of foreclosures as compared to 2020. They emphasize that we're seeing far more foreclosures this year compared to last.
That seems rather daunting. However, though it's true foreclosures have been up over the 2020 numbers, it's important to realize that there were virtually no foreclosures last year because of the forbearance plan. If we compare this September to September of 2019 (the last normal year), foreclosures were down 70% according to ATTOM.
Even Rick Sharga, an Executive Vice President of the firm that issued the report referenced in the above article, says: "As expected now that the moratorium has been over for three months, foreclosure activity continues to increase. But, it's increasing at a slower rate, and it appears that mot of the activity is primarily on vacant and abandoned properties, or loans in foreclosure prior to the pandemic."
2. Rising Mortgage Rates Will Slow the Housing Market
Another topic that's generating headlines is the rise in mortgage rates.
Some people are expressing concern that rising rates will negatively impact the housing market by causing home sales to dramatically decline. The resulting headlines are raising unneeded alarm bells. To counteract those headlines, we need to take a look at what history tells us. Looking at data over the last 20 years, there's no evidence that an increase in rates dramatically forces sales to come to a halt. Nor does home price appreciation come to a screeching stop.
Let's look at home sales first: The last three times rates increased sales remained rather consistent. It's true that sales fell rather dramatically from 2007 through 2010, but mortgage rates were also falling at the time.
We can also look at home price appreciation (see graph below). Again, we see that a rise in rates didn't cause prices to depreciate. Outside of the years following the crash, prices continued to appreciate, just at a slower rate.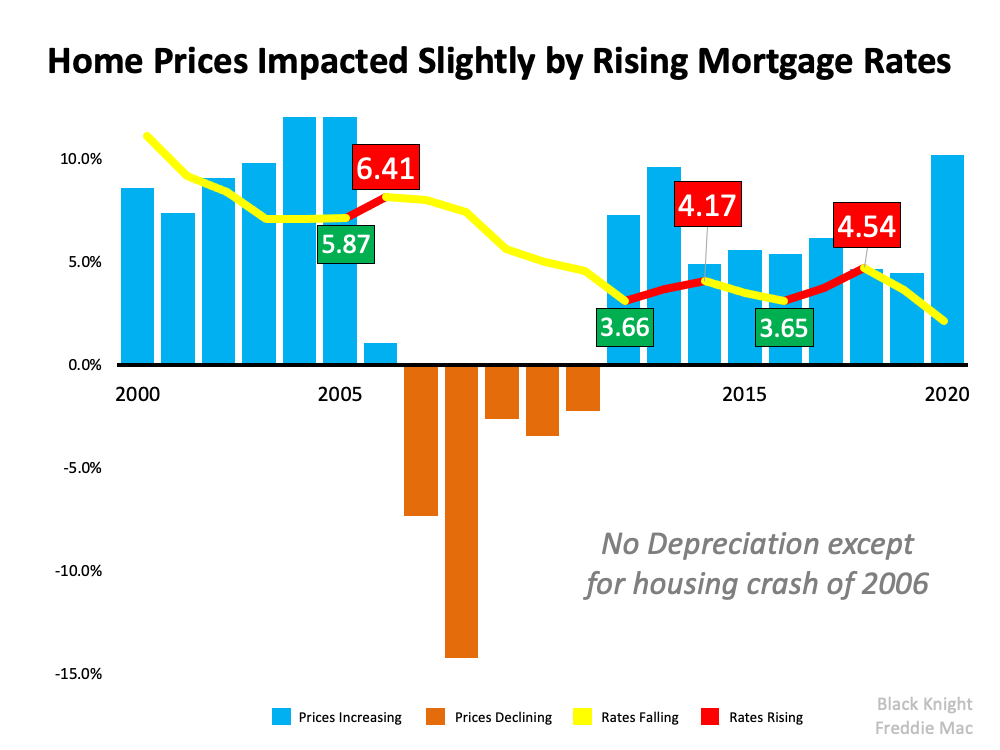 As we head towards the end of the year, there will no doubt be more misinformation as so called experts make their predictions for 2022.
If you have questions, please don't hesitate to contact us at 508-568-8191or msennott@todayrealestate.com. We're happy to be sure you have the correction information.
---
After a hiatus due to the virus crisis, we were able to resume our Client Appreciation Thanksgiving Pie Social on the Sunday before the holiday.
Our thanks to all our clients/friends who attended the event held at JDs Burger and Sushi in Sandwich. Always hospitable hosts, they kept the hors d'oeuvres coming as strangers became friends. One of the aspects of this event that we enjoy most is seeing people who didn't know each other make plans to meet for dinner or visit at a later date.
We also donated any extra pies to the Sandwich Food Pantry, one of our favorite local non-profits.
We hope you enjoyed the holiday.
Mari and Hank
---