We met a young couple at our favorite watering hole Saturday evening, who started asking us about the housing market when they learned that we were real estate agents. (Funny, how that always happens…)
When the discussion turned to interest rates, they were truly shocked when we told them that the mortgage rate we paid for our first home was about 14% and how thrilled we were when the rate finally dropped to 7%!
Mortgage rates are one of several factors that impact how much you can afford if you're buying a home. When rates are low, they help you get more house for your money. Within the last year, mortgage rates hit the lowest point ever recorded, and they've hovered in this historic-low territory. But even over the past few weeks, rates have started to rise. This past week, the average 30-year fixed rate was 3.14%.
What does this mean if you're thinking about making a move?  Simply put, waiting until next year will cost you more in the long run. Here's a look at what several experts project for mortgage rates going into 2022.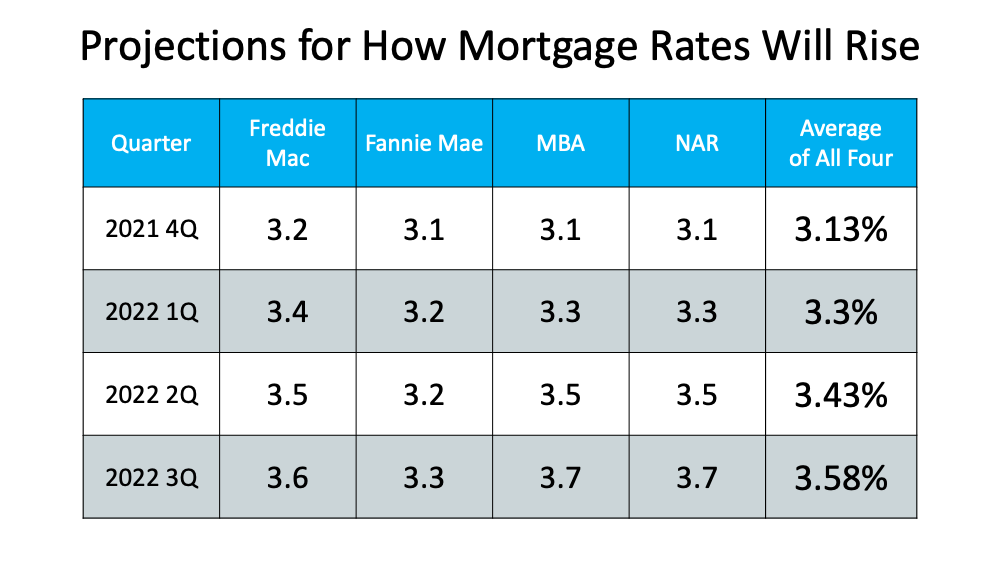 So, whether you're thinking about buying your first home, moving up to your dream home, or downsizing because your needs have changed, purchasing before mortgage rates rise even higher will help you take advantage of today's homebuying affordability.
While no one is predicting that rates will be as high as when we bought our first home, if rates rise even a half-point percentage over the next year, it will impact what you pay each month over the life of your loan – and that can really add up. So, the reality is, as prices and mortgage rates rise, it will cost more to purchase a home.
Want to know more about how mortgage rates impact how much of a house you can afford? We're available to answer this and any question about the housing market. You can connect with us at 508-568-8191 or msennott@todayrealestate.com. We're happy to help.
---
Mari is continuing her 30 Days; 30 Questions series. Here's one from last week about staging your home when selling.
Have a good week…
Mari and Hank