The one question that's top of mind for homebuyers as we start the new year is: why is it still so hard to find a house to buy? The truth is, we're in the ultimate sellers' market, so real estate is ultra-competitive right now. The number of buyers searching for a home greatly outweighs how many homes are available for sale.
While low inventory in the housing market isn't new, it's a challenge that continues to grow over time. Here's a look at two reasons why today's supply is low and what that means if you're looking to buy.
1. New Home Construction Has Fallen Behind Demand
The graph below shows new home construction for single-family homes over the past five decades, including the long-term average for housing units completed. Builders exceeded that average during the housing bubble (shown in red on the graph). The result was an oversupply of homes on the market, so home values declined. That was one of the factors that led to the housing crash back in 2008.
Since then, the level of new home construction has fallen off. For the last 13 straight years, builders haven't been able to construct enough homes to meet the historical average (as illustrated in green on the graph). That underbuilding left us with a multi-year inventory deficit before the pandemic started.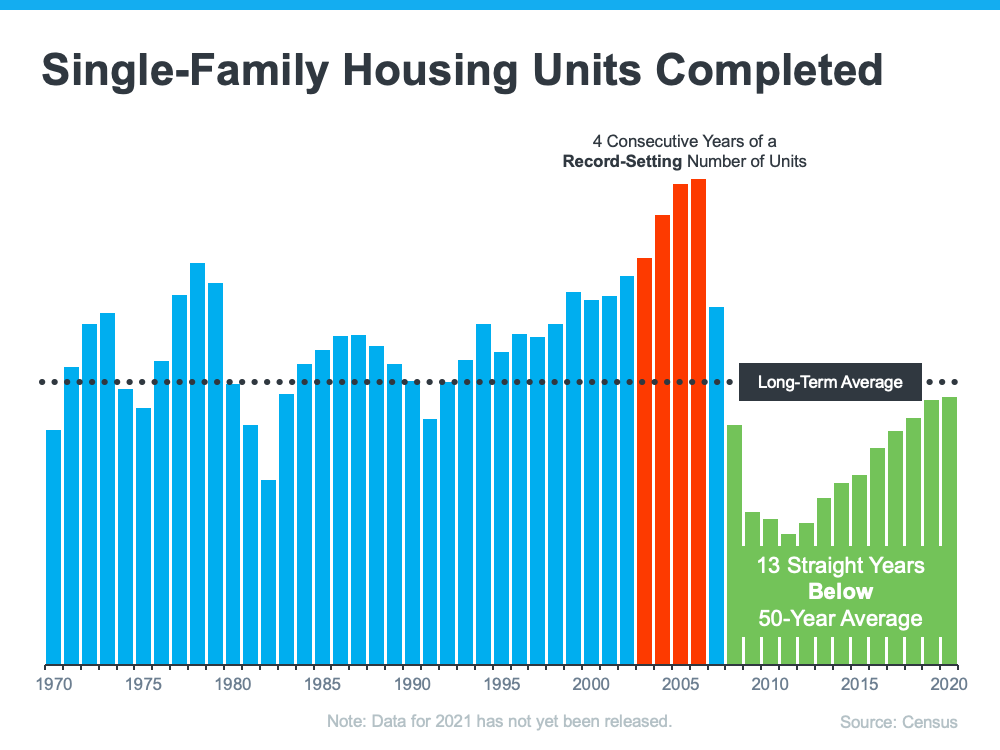 2. The Pandemic's Impact on the Housing Market
The pandemic fueled a renewed appreciation and focus on the meaning of home. Having a safe space to live, work, learn, and exercise became even more important for Americans throughout the country. So, as mortgage rates dropped to at or below 3%, buyers eagerly entered the market looking to capitalize on those low rates and secure a home that would fulfill their changing needs. But, at the same time, sellers hesitated to put their houses on the market as concerns about the pandemic mounted.
The result? The number of homes available for sale dropped even further. On Cape Cod, the supply of available homes last month was 53% less than it was at the same time in 2020.
We ended the year with 14.7% fewer single family home sales in 2021 than 2020. (4,192 vs. 4,915). Median sales prices were up 26.6% over the same period. ($510,000 vs. 619,950).
Condominiums saw an 8.2% drop in sales (1,202 vs 1,104) and a 10.1% increase in median sales price. ($345,000 vs. $380,000).
What Does All of This Mean for You?
Buyers need to remember that low inventory doesn't mean no inventory. If you want to find the home of your dreams, be sure that you're pre-approved, have a clear idea of what you're looking for, and have your home on the market if you need to sell it. (You just won't be able to compete with buyers who are offering large down payments or paying cash, if you home isn't even being marketed.)
There is also some good news. Experts are projecting more homes will become available thanks to sellers re-entering the market to take advantage of high returns on their investment or finally deciding that it's time to get on with their lives.
Danielle Hale, Chief Economist at realtor.com, shares this hope, but offers perspective: "For buyers, the market is likely to continue to move fast. If you see a home you like, be right to jump on it right away."
Today's market is favoring sellers. If you have questions, we'd be happy to provide answers. Let's connect at 508-360-5664 or msennott@todayrealestate.com to discuss your options. You need the right information to make an educated and informed decision about buying or selling in the year ahead.
Have a great week.
Mari and Hank