Rising interest rates was one of the topics at our company staff meeting this morning.
You've probably noticed that the average 30-year fixed mortgage rate from Freddie Mac has inched up to 5%. While that news may have you questioning the timing of your home search, the truth is, timing has never been more important. Even though you may be tempted to put your plans on hold in hopes that rates will fall, waiting will only cost you more. Mortgage rates are forecast to continue rising in the year ahead.
We heard stories this morning of potential buyers losing out on purchases, because rising interest rates made the property unaffordable for them. One colleague reported having three sales fall apart for the same moderately priced home because of the increase in rates.
If you're thinking of buying a home, here are a few things to keep in mind so you can succeed even as mortgage rates rise.
How Rising Mortgage Rates Impact You
Mortgage rates play a significant role in your home search. As rates go up, they impact how much you'll pay in your monthly mortgage payment, which directly affects how much you can comfortably afford. Here's an example of how even a quarter-point increase can have a big impact on your monthly payment (see chart below):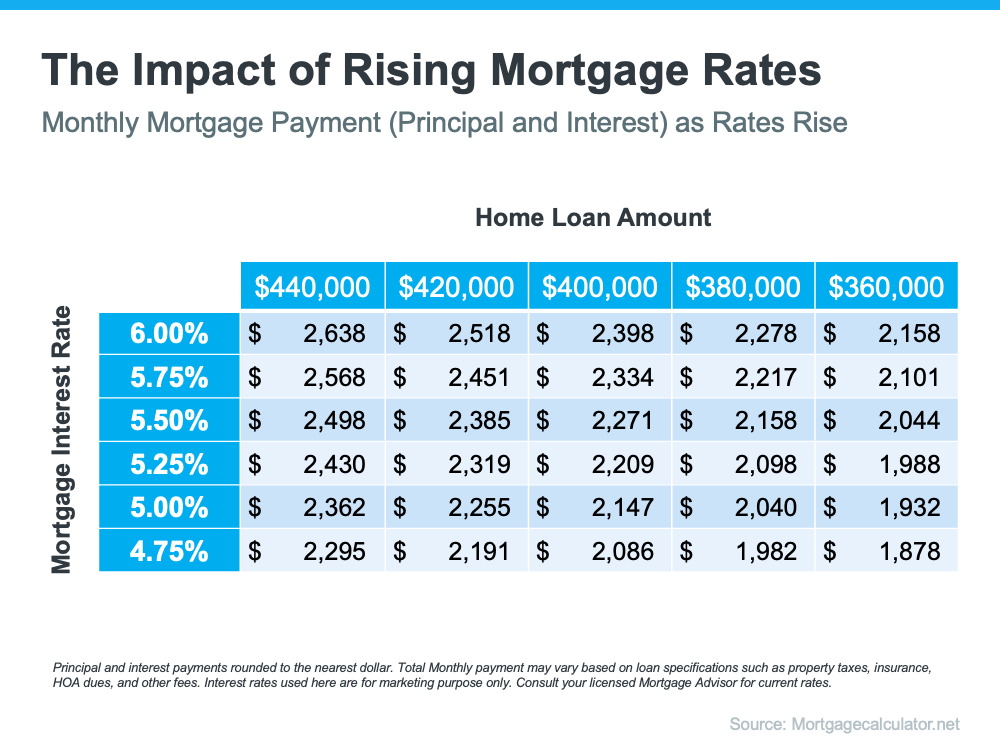 With mortgage rates on the rise, you've likely seen your purchasing power impacted already. Instead of delaying your plans, today's rates should motivate you to purchase now before rates increase more. Use that motivation to energize your search and plan your next steps accordingly.
Curious about your options? Let's connect at 508-360-5664 or msennott@todayrealestate.com so you can better understand your budget and be prepared to buy your next home before rates climb higher.
It's important to have the correct information to make an informed decision.
---
In some personal news, after 28 years we've decided to sell our two story Cape and downsize for many of the reasons we have written about in this blog. The house is too big; we don't use every room. Stairs are starting to become a bit of an issue. We're depending on landscapers, plumbers, painters and others to tend to basic maintenance.
Because we have been neither buyers or sellers in quite some time, we've started a series of videos called "Mari Makes the Move" on our YouTube channel to share our experiences and hopefully offer you some helpful tips. Please subscribe to the channel to follow our journey. Thanks…
Mari and Hank