If you're thinking about buying a home, you're no doubt aware that mortgage rates are rising and you're probably wondering what that means for you. Since mortgage rates have increased over two percentage points this year, it's natural to think about how this will impact your homeownership plans.
Buyers are reacting in one of two ways: they're either making the decision to buy now before rates climb higher or they're waiting it out in hopes rates will fall. Here's some context that can help you understand why so many buyers are making their move and taking action instead of waiting.
How the Current Mortgage Rate Compares to Historical Data
One factor that could help you make your decision to buy now is how today's mortgage rates compare to historical data. While higher than the average 30-year fixed rate in recent years, the latest rates are still comparatively low when you look at the bigger picture of where rates have been since 1971 (see graph below):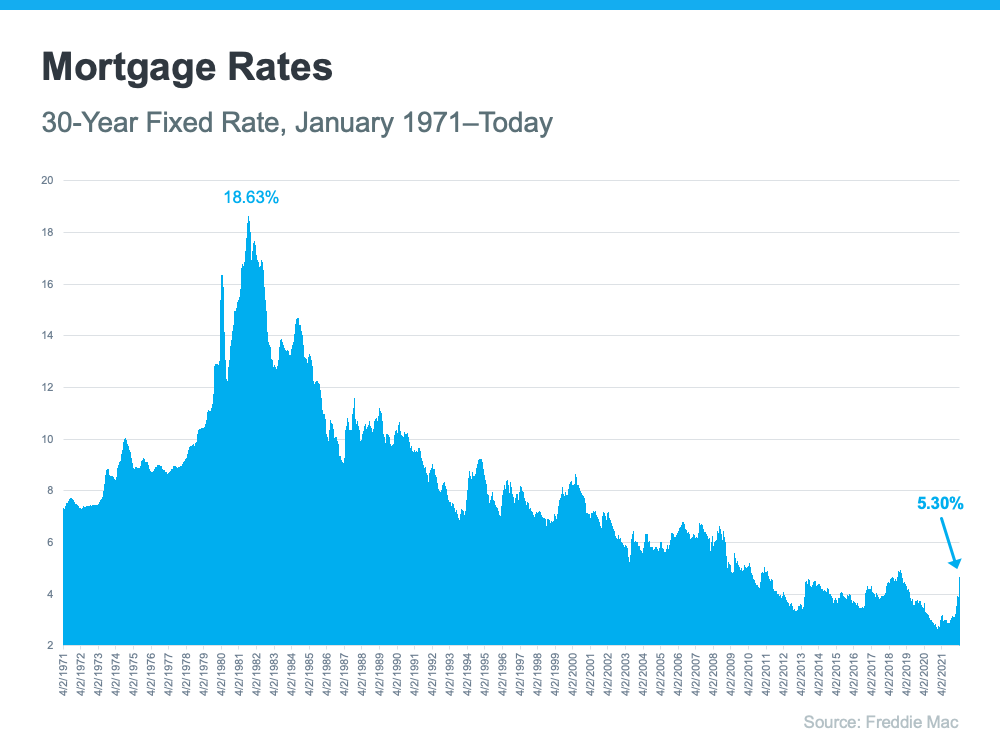 If you're deciding whether to buy now or wait, this is important context to have. Today's mortgage rate still gives you a window of opportunity to lock in a number that's significantly lower than decades past.
Not every lender is offering the same rate right now. The differences can be 1% or more. So, be sure to compare. We work with several reputable lenders and are happy to pass along their contact information.
We remember when interest rates were at their highest. We had a rate of 14%! But people still bought homes, because they understood that real estate has always been the safest investment and that waiting was, well, just waiting.
A Look Ahead: What Happens if Rates Climb Further
The buyers who are springing into action now are motivated to make their move because they know rates have risen steadily this year, and they're eager to get ahead of any further increases.
Why? When mortgage rates climb, they impact the monthly mortgage payment you'll have on the home you're buying. Basically, it'll likely cost you more to buy if you wait.
Experts say mortgage rates will rise (although more moderately) in the months ahead. Odeta Kushi, Deputy Chief Economist at First American, explains: "…ongoing inflationary pressure remains likely to push mortgage rates even higher in the months to come."
So, if you're ready and financially able to buy now, it may make more sense to get off the fence and make your purchase sooner rather than later.
That's what we've done. We've sold our home where we've lived for the past 28 years and are purchasing a ranch style condo. We have an mortgage interest rate that would have been laughed off as fantasy when we were younger.
At the end of the day, there is no perfect advice on when to buy a home. What you should do depends on your goals, your finances, and your personal situation.
Please use this information to make an informed decision about what's best for you. And let's connect at 508-360-5664 or msennott@todayrealestate.com. We're be happy to answer your questions.
Happy Memorial Day. Never forget…
Mari and Hank