Buying your first home is a major decision and an exciting milestone. Even though it can feel daunting at times, it has the power to change your life for the better. These days, if you're looking to purchase your first home, you're probably concerned about what's happening in the housing market, how much you need to save, and where to start.
Here are three tips to help you confidently pursue your dream of homeownership.
1. Consider All Options Because Inventory Is Low
As we all know, there are far more buyers in the market than there are homes available for sale. So, it's a good idea to do what you can to increase your pool of options. That could mean expanding your search to include additional housing types. For first-time buyers, considering condominiums and townhouses can be an excellent way to increase your choices.
According to Bankrate: "Buying a condo can be a great way to dive into homeownership without worrying about the upkeep that comes with single family homes."
Condos and townhouses are both great entryways into homeownership. When you buy either one, you can start building equity which increases your net worth and can fuel a future move.
You might also consider expanding your area of interest. A few miles could make a difference in price and homes to choose from.
2. Know Your Down Payment Could Be More Within Reach Than You Think
Saving for a down payment can feel like one of the biggest obstacles for homebuyers, but that doesn't have to be the case. Acccording to Bankrate: "One of the biggest misconceptions among consumers is what the typical down payment is and what amount is needed to enter homeownership."
Data from the National Association of Realtors (NAR) shows the median down payment hasn't been over 20% since 2005. The graph below breaks down the median down payment by age group for recent homebuyers according to the 2022 Home Buyers and Sellers Generational Trends Report from NAR (see graph below):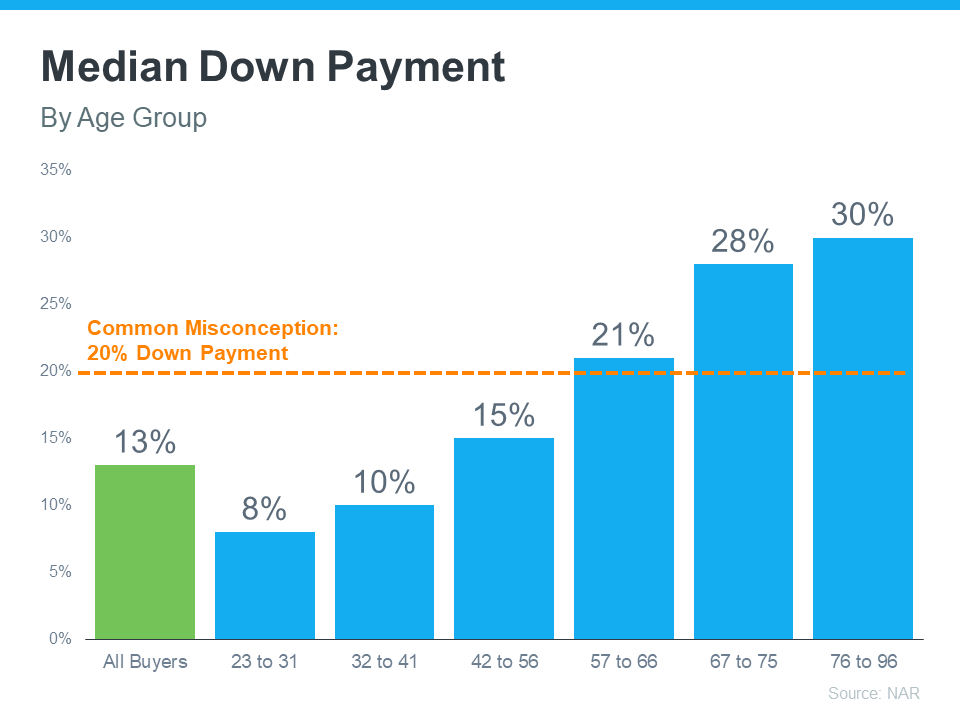 Based on the data above, the median down payment for all homebuyers is only 13%. That's well below the common misconception of 20%, and it's even lower for younger buyers. This could mean you may not need to save as much for a down payment as you initially thought.
Some loan options require as little as 3.5% down for buyers who qualify. While there are advantages to putting 20% down, especially in today's competitive market, know that you have options.
3. This Isn't the Time to Take Uncle Harry's Advice
Finally, no matter where you are in your homeownership journey, the best way to make sure you're set up for success is to work with a professional.
Well meaning relatives like Uncle Harry, who "knows a little something about real estate," or family and friends, who bought houses a decade or more ago, are not your best sources of information and advice about today's housing market.
(They might be the ones telling you that you need 20% for a downpayment!)
If you're just starting out, a real estate professional can help you with the initial steps, including educating you on the process and connecting you with a trusted lender to get pre-approved.
Once you're ready to begin your search, we can help you understand the market where you're interested and search for available homes.
And when it's time to make an offer, we can advise you on what the current trends and expectations are and help your offer stand out above the rest.
Curious about your options? Let's connect at 508-360-5664 or msennott@todayrealestate.com to discuss what's possible. It's important to have the correct information to make an informed decision.
…and remember. We know of what we speak. We're selling and buying now, too. Check out our series "Mari Makes the Move" on our YouTube Channel, Mari Sennott Plus. We'll be posting new episodes soon.
---
Thanks to everyone who came by the Sandwich Office of Today Real Estate on Saturday to have their valuable documents shredded by Great White Shred. Our goal was 100 "boxes" and we reached 93, even though the weather didn't exactly cooperate. We plan on doing it again late summer/early fall.
Thanks as well to Kristy Sassone from First Home Mortgage for the assist with coffee and donuts and our raffle prize sponsors Jason Goldstein Photography, JDs Burgers and Sushi, Tomatillos, and Penguins Ice Cream.
Enjoy your week.
Mari and Hank