You've been thinking about buying a home, but the current economic situation has you skittish. As predicted, Interest rates have inched up. But, they're nowhere near what you're currently paying on your credit cards.
Well-meaning relatives, who "know a little something about real estate," and not so sincere talking heads on your favorite cable news channel are saying you should wait because sales prices are going to drop.
Level off?
Possibly.
Drop?
No.
So, here's what waiting is costing you.
If you already owned a home, your net worth likely got a big boost thanks to rising home equity. Equity is the current value of your home minus what you owe on the loan. And today, based on recent home price appreciation, you would be building equity far faster than you would have expected. Here's why.
Because there's an ongoing imbalance between the number of homes available for sale and the number of buyers looking to make a purchase, home prices are on the rise. That means a home is worth more in today's market because it's in high demand. As Patrick Dodd, President and CEO of CoreLogic, explains: "Price growth is the key ingredient for the creation of home equity wealth…This has led to the largest one year gain in average home equity wealth for owners…"
Basically, because home values have climbed so much, equity has increased too. According to the latest Homeowner Equity Insights from CoreLogic, the average homeowner's equity has grown by $64,000 over the last 12 months.
While that's the nationwide number, the map below shows that average equity for Massachusetts homeowners has increased $62,000.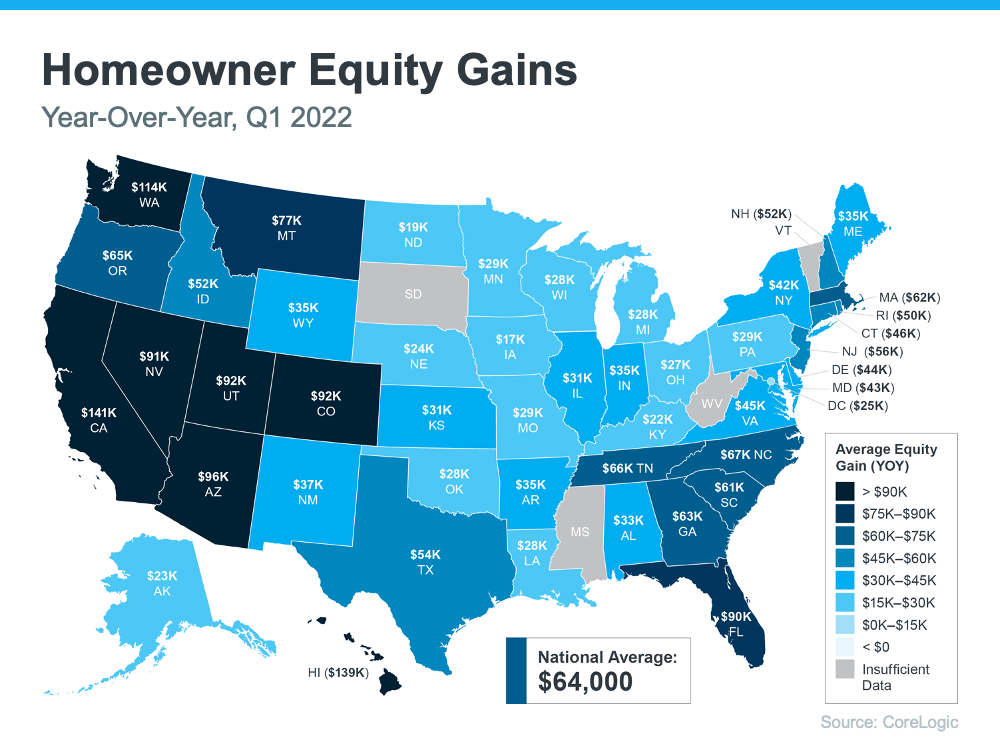 The Opportunity Your Rising Home Equity Provides
Thinking about marketing your home and upsizing, downsizing or moving to that someday neighborhood? Your equity can help you purchase your next home. When you sell your current house, the equity you built up comes back to you in the sale. In a market where homeowners are gaining so much equity, it may be just what you need to cover a large portion – if not all – of the down payment on your next home.
So, if you've been holding off on selling or you're worried about being priced out of your next home because of today's ongoing home price appreciation, your equity can help fuel your move.
That's what we just did. We took advantage of the equity in our home to downsize and purchase something smaller in an area that we've been looking at for years. We had no home sale contingency when we made our offer. We then sold our house and received $45,000 over asking price! You can do it, too!
Curious about your options? We're happy to answer your questions. Let's connect at 508-360-5664 or msennott@todayrealestate.com. We'll share with you current market statistics, as well as our experiences as both buyers and sellers. Let's talk soon.
Enjoy your week. It looks like summer is finally here!
Best regards,
Mari and Hank