Defining the American dream is personal, and no one individual will have the same definition as another. But the feelings it brings about success, freedom, and a sense of prosperity are universal. That's why, for many people, homeownership remains a key part of the American dream. Your home is your stake in the community, a strong financial investment, and an achievement to be proud of.
A recent survey from Bankrate asked respondents to rank achievements as indicators of financial success, and the responses show that owning a home is still important to many Americans today (see graph below):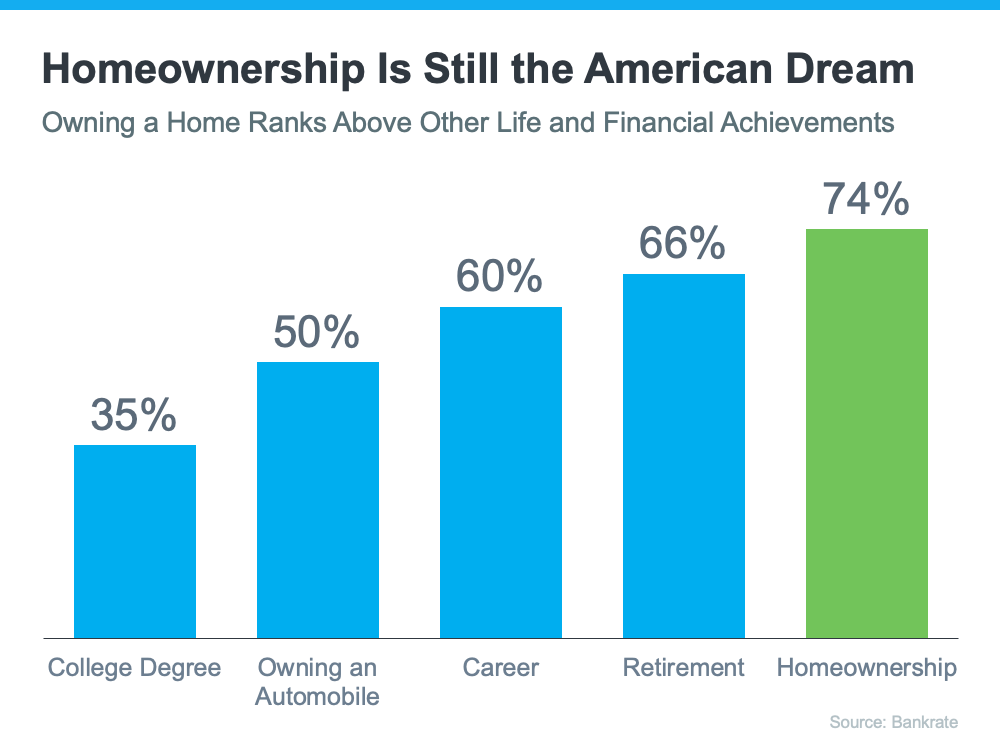 As the graph shows, homeownership ranks above other significant milestones, including retirement, having a successful career, and earning a college degree.
This could be because owning a home is a significant wealth-building tool and provides meaningful financial stability. The National Association of Realtors (NAR) explains: "Homeownership builds financial security. With 65.5% of Americans owning homes, the net worth of a typical homeowner is nearly 40 times the net worth of a non-owner."
There are other ways your home acts as more than just a roof over your head. The Mortgage Reports highlights a few of the many benefits homeowners enjoy, including:
Your housing costs are fixed – and that can help combat rising costs from inflation.
You'll have greater privacy and the opportunity to customize your living space.
Plus, homeowners tend to be more active in their community. As the NAR says: "Living in one place for a longer amount of time creates an obvious sense of community pride, which may lead to more investment in a community."
What Does That Mean for You?
If your definition of the American Dream involves greater freedom and prosperity, then homeownership could play a major role in helping you achieve that dream. When you set out to buy, know there are incredible benefits waiting for you at the end of your journey. You'll have a place you can call your own, feel most comfortable, and grow your wealth.
This is a concept not lost on millennials (born between 1982 and 2000), who are often referred to as a generation of renters. However, their homeownership rate is catching up to Generation X (born between the mid-1960s and early 1980s). In the coming years, they may become the first generation since World War II to reverse the trend in declining homeownership.
According to Apartment List: "today the millennial homeownership rate is 43 percent, well below the rates of generation X (67 percent) and the baby boomer and silent generations (77 percent).
"An important feature of millennial homeownership that often gets muddled in the media conversation is that it is increasing, and with few minor exceptions, it has always been increasing. The oldest millennials turned 18 in 1999, and every year since then there has been a net increase in the number of millennial-owned homes.
"Since the Great Recession, the millennial homeownership rate has grown faster than any other, particularly in the last five years…Today, millennials are the least likely to own a home, but they are the most likely to purchase one."
No matter your generation, buying a home is a powerful decision and a key part of the American Dream. And if buying a home for the first time, upsizing, downsizing or moving to that "someday" place is part of your personal dreams this year, let's connect at 508-360-5664 or msennott@todayrealestate.com. We're happy to answer your questions as real estate professionals and as people who last month sold our home of 28 years to buy a smaller property in an area that we had been thinking about for years.
Please stay safe and pay attention to children or adults who aren't familiar with the water. We've already had far too many accidents this summer. Thanks…
Best regards,
Mari and Hank