Like many of you, we were dodging the downpours last week. Only we were in Dallas where the torrential rains flooded parts of the downtown stranding people in their cars with many needing to be rescued by first responders.
We were attending our seventh Success Summit, sponsored by the Tom Ferry organization. Ferry is consistently voted the leading trainer in our profession. He's also an FOM. (Friend of Mari)
With us were about 25,00 of our colleagues from the States and around the world. (About 6,000 in person; the rest on live stream.)
We had an opportunity to network with other professionals and learn about where they work and what has been successful for them in helping their buyer and seller clients.
The conference itself provided a wealth of information about the status of the market and its somewhat confusing behavior. Bad memories of 2008, worse advice from inernet "experts" and relatives who know "a few things about real estate," and the charged political atmosphere with the mid-terms looming have many concerned about a possible crash.
But, one of the key reasons why the market won't crash this time is the current undersupply of inventory. Housing supply comes from three key places; 1.current homeowners putting their homes up for sale; 2. newly built homes coming onto the market, and 3.distressed properties (short sales or foreclosures)
For the market to crash, you'd have to make a case for an oversupply of inventory headed to the market, and the numbers just don't support that. So, here's a deeper look at where inventory is coming from today to help prove why the housing market isn't headed for a crash.
Current Homeowners Putting Their Homes Up for Sale
Even though housing supply is increasing this year, there's still a limited number of existing homes available. The graph below helps illustrate this point. Based on the latest weekly national data, inventory is up 27.8% compared to the same week last year (shown in blue). But compared to the same week in 2019 (shown in the larger red bar), it's still down by 42.6%.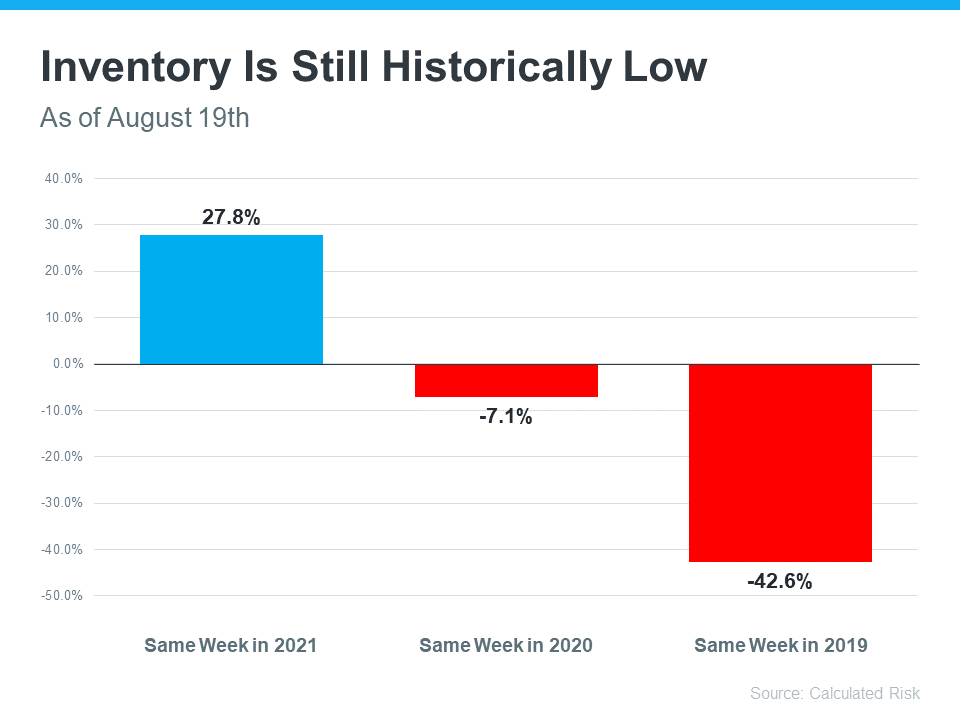 So, what does this mean? There simply aren't enough homes on the market to cause prices to crash. There would need to be a flood of people getting ready to sell their houses in order to tip the scales toward a buyers' market. And that level of activity simply isn't there.
Newly Built Homes Coming onto the Market
There's also a lot of talk about what's happening with newly built homes today, as builders are actually slowing down their production. Ali Wolf, Chief Economist at Zonda, notes: "It has become a very competitive market for builders where they are trying to offload any standing inventory."
To avoid repeating the overbuilding that happened leading up to the housing crisis, builders are reacting to higher mortgage rates and softening buyer demand by slowing down their work. It's a sign they're being intentional about not overbuilding homes like they did during the bubble.
But, with not enough new homes being built over the last several years, builder caution is not helping to increase supply as much as needed.
Distressed Properties (Short Sales or Foreclosures)
The last place inventory can come from is distressed properties, including short sales and foreclosures. Back in the housing crisis, there was a flood of foreclosures due to lending standards that allowed many people to secure a home loan they couldn't truly afford. Today, lending standards are much tighter, resulting in more qualified buyers and far fewer foreclosures. The graph below uses data from ATTOM Data Solutions on properties with foreclosure filings to help paint the picture of how things have changed since the crash: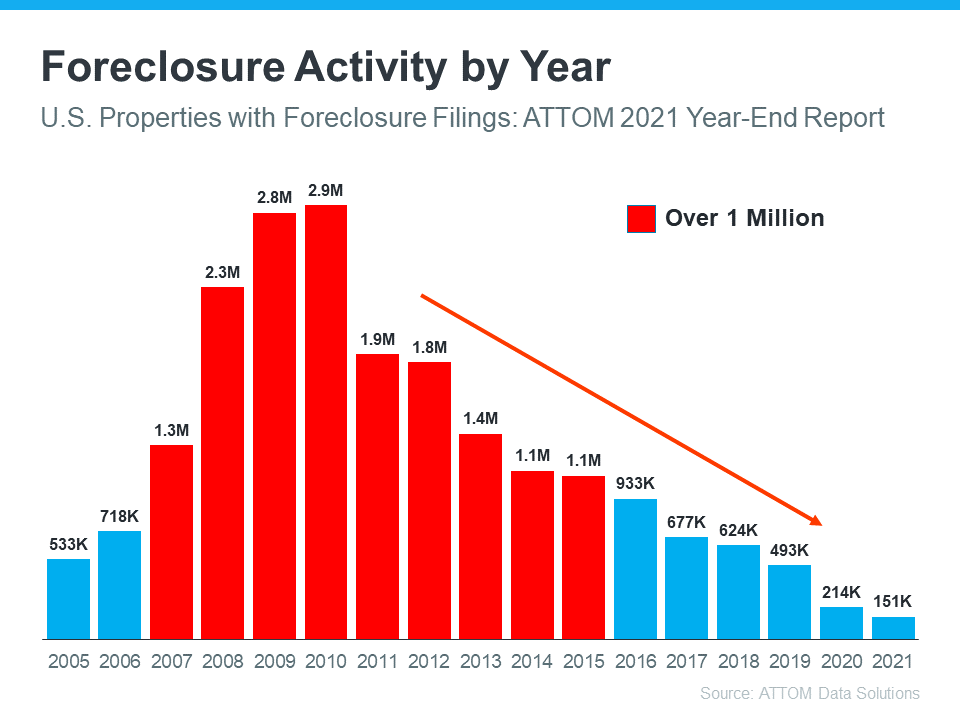 So for those of you looking for a deal, your wait could be a long one.
The forbearance program during the height of the pandemic was a game changer, giving homeowners options for things like loan deferrals and modifications they didn't have before. And data on the success of that program shows four out of every five homeowners coming out of forbearance are either paid in full or have worked out a repayment plan to avoid foreclosure. These are a few of the biggest reasons there won't be a wave of foreclosures coming to the market.
With the real experts agreeing that, in general, prices will moderate, but not decrease, is it time to make your move? As many of you know, we did earlier this year selling our home of 28 years and moving to something that makes more sense for our current needs and lifestyle. You can, too!
Let's connect at 508-360-5664 or msennott@todayrealestate.com. We'd be happy to share our experience as sellers and buyers, as well as more of what we learned in Dallas and how it can apply to your personal situation. Let's talk soon.
With school beginning in many of our communities this week, please be aware of kids walking to school and waiting for the bus. Thanks…
Mari and Hank