Whether you're a potential homebuyer, seller, or both, you're probably wondering: will home prices fall this year? So, let's take a look at what the real experts are saying and why this matters for your homeownership goals.
Last Year's Rapid Home Price Growth Wasn't the Norm
In 2021, home prices appreciated quickly. One reason is because record-low mortgage rates motivated more buyers to enter the market. As a result, there were more people looking to make purchases than there were homes available for sale. That led to competitive bidding wars which drove prices up. CoreLogic helps explain how unusual last year's appreciation was: "Price appreciation averaged 15% 2021, up from the 2020 average of 6%"
In other words, the pace of appreciation in 2021 far surpassed what the market saw in 2020. And even that appreciation was greater than the pre-pandemic norm which was typically around 3.8%. This shows that 2021 was an anomaly in the housing market spurred by more buyers than homes for sale.
Home Price Appreciation Is Moderating
Home price appreciation is now slowing (or decelerating) from the feverish pace the market saw over the past two years. According to the latest forecasts, experts say on average, nationwide, prices will still appreciate by roughly 10% in 2022 (see graph below):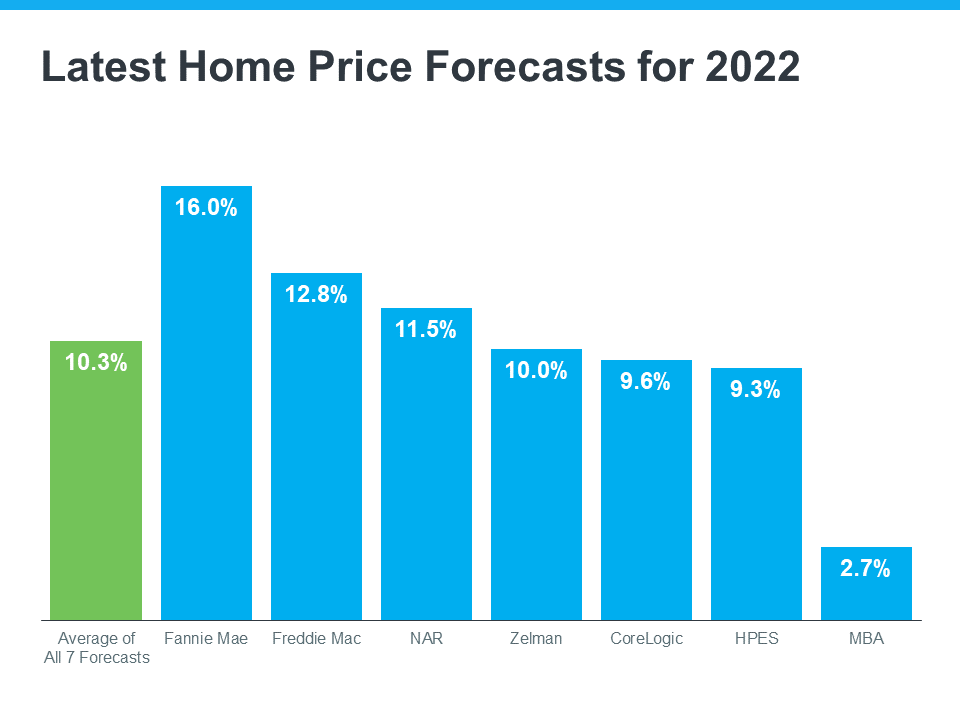 On Cape Cod, the median sales price for a single family home was up 14.3% this July when compared to last. Year-to-date the median price is up 14.9% over 2021. That's on the high end of what's predicted, but within range of what the experts are saying.
Why do all of these experts agree prices will continue to rise? It's simple. Even though housing supply is growing today, it's still low overall thanks to several factors, including a long period of underbuilding homes. And experts say that's going to help keep upward pressure on home prices this year. Additionally, since mortgage rates are higher this year than they were last year, buyer demand has slowed.
As the market undergoes this change, this year's true price appreciation won't match the feverish pace in 2021. But the rapid appreciation the market saw last year wasn't sustainable anyway.
What Does That Mean for You?
Today, the market is beginning to move back toward pre-pandemic levels. But even the forecast for 10% home price growth in 2022 is well beyond the 3.8% that's more typical for a normal market.
So, despite what you may have heard on your favorite cable TV news channel or from your mother's cousin Gretchen, who had her real estate license 20 year ago , the actual experts say home prices won't fall in most markets. They'll just appreciate more moderately.
If you're worried that the house you're trying to sell or the home that you want to buy will decrease in value, you should know the experts aren't calling for depreciation in most markets, just deceleration. That means your home should still grow in value, just not as fast as it did last year. Real estate remains one of the best long term financial investments available.
Bottom Line
If you're thinking of making a move, you shouldn't wait for prices to fall. Experts say nationally, prices will continue to appreciate this year, just at a more moderate pace.
Still on the fence about selling? With the market cooling, you've arguably lost money by waiting. You'll still receive a very nice price for your home, but possibly not what your neighbor received eight months ago when there were bidding wars.
Curious about your options? Let's connect at 508-360-5664 or msennott@todayrealestate.com. We'll share with you the latest market data, as well as our experience this spring as sellers and buyers.
Finally, please be patient with our local merchants and their employees. Many businesses remain understaffed and are doing the best they can to serve you as efficiently as possible. Being told at a restaurant that there's a 30 minute wait when you see open tables simply means they don't have the staff to properly serve you. It's better to not seat you, than have you sitting at a table getting frustrated over the "lousy service" and posting negative comments on social media. Thanks…
Mari and Hank