Some people believe there's a group of homeowners who are reluctant to sell their houses because they don't want to lose the historically low mortgage rate they have on their current residences. You may even have the same hesitation if you're thinking about selling your house.
Data shows that as of this April, 51% of homeowners have a mortgage rate under 4%. And while it's true mortgage rates are slightly higher than that right now, there are other non-financial factors to consider when it comes to making a move. Your mortgage rate is important, but you may have other things going on in your life that make a move essential, regardless of where rates are today.
As Jessica Lautz, Vice President of Demographics and Behavioral Insights at the National Association of Realtors (NAR), explains: "Home sellers have historically moved when something in their lives changed – a new baby, a marriage, a divorce, or a new job…."
So, if you're thinking about selling your house, but hesitating, it may help to explore the other reasons homeowners are choosing to make a move. The 2022 Summer Sellers Survey by realtor.com asked recent home sellers why they decided to make their move. The visual below breaks down how they responded: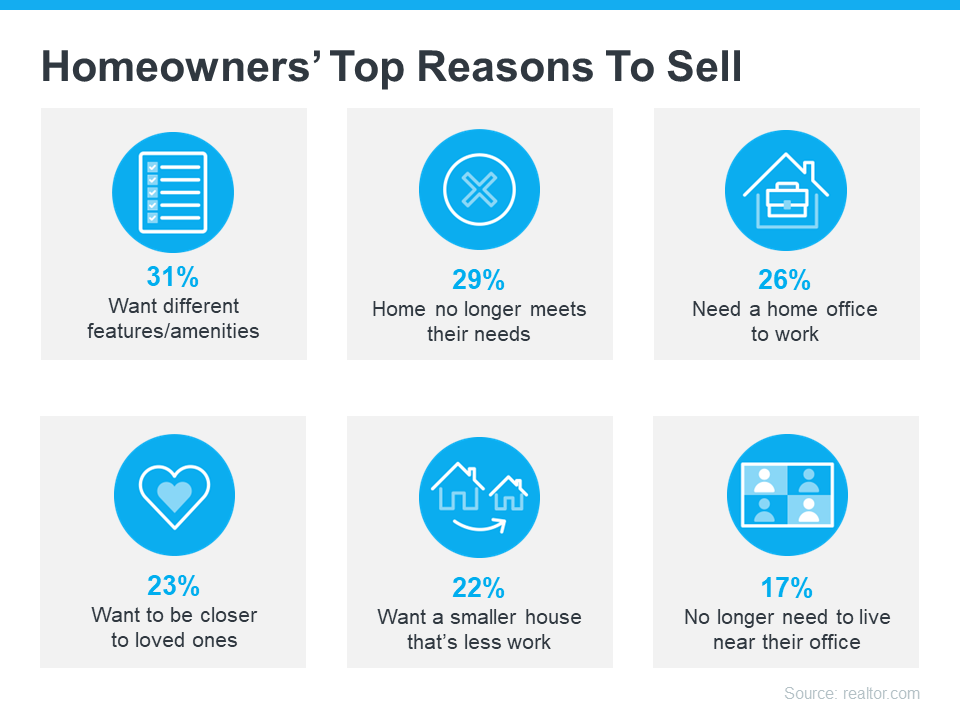 As the visual shows, an appetite for different features or the fact that their current home can no longer meet their needs topped the list for recent sellers. Additionally, remote work and whether or not they need a home office or are tied to a specific physical office location also factored in, as did the desire to live close to their loved ones.
If you, like the homeowners surveyed, find yourself wanting features, space, or amenities your current home just can't provide, it may be time to consider marketing your house.
That's what we did a few months ago. Our three bedroom, two bath Cape on a corner lot with a swing set in the backyard served us very well for 28 years. But, it had become too much space with too many stairs and a yard that was getting too big to take care of. (And the swing set was rarely used in a recent years!)
For us, the answer was downsizing to a ranch style condo in an over 55 community.
So, even if you're concerned about mortgage rates, your lifestyle needs may be enough to motivate you to make a change.
If you're interested in finding out what's the best path for you, let's connect at 508-360-5664 or msennott@todayrealestate.com. We can help you walk through your options, so you can make a confident decision based on what matters most to you and your loved ones.
Talk soon…
Mari and Hank