We've lived on Cape Cod for 26 years. We moved here when our daughter was three. She's 29 now. It's been a lifetime.
We've always believed in the importance of playing a positive part in our community.
For a decade, Hank was involved in Sandwich Town government. He chaired the Finance Committee for two years; served a term a term on the Board of Selectmen, and headed the committee that wrote the Town's first charter.
We've both volunteered for various organizations over the years. Mari is now the Chair of the Health Grant Review Committee for the Cape and the Islands United Way. She's also a member of the Board of Directors of the Cape Cod and Islands Association of Realtors.
We donate $200.00 from each our closings to non-profits suggested by our clients. So, we're excited to tell you that as a result of all our recent closings, we've been able to support to the Sandwich Food Pantry, Cape and Islands United Way, Boston Children's Hospital, A Baby Center in Hyannis, and Angel Babies of Massachusetts. A special thanks to our clients, who helped make these possible. Please consider supporting these important organizations, as well.
The newest example of our commitment to the community is a kiosk in the CVS at Quaker Meeting House Road in Sandwich that distributes sanitizing sheets. Especially at public places like a pharmacy, it's important to have resources available to wipe your hands, carts, etc.
We also have our own "brand" of hand sanitizer that we've been distributing to clients and at open houses since April.
In the overall scheme of things, small gestures. But as realtors and residents, it's our contribution to making Sandwich and Cape Cod a great place to live.
---
The numbers show that the housing market is making an historic rebound as we attempt to emerge from the virus crisis.
Across the country, pending home sales increased by 44.3% in May, registering the highest month-over-month gain in the index since the National Association of Realtors (NAR) started tracking this metric in January 2001.
So, what exactly are pending home sales index? According to the National Association of Realtors:
"A leading indicator of housing activity, measures housing contract activity, and is based on signed real estate contracts for existing single-family homes, condos, and co-ops. Because a home goes under contract a month or two before it is sold, the Pending Home Sales Index generally leads Existing-Home Sales by a month or two."
With the COVID-19 pandemic and a shutdown of the economy, there was a steep two-month decline in the number of houses that went into contract. In May, however, that number increased dramatically nationally, as the graph below shows. This jump means buyers are back in the market and purchasing homes right now, according to NAR's Chief Economist Lawrence Yun.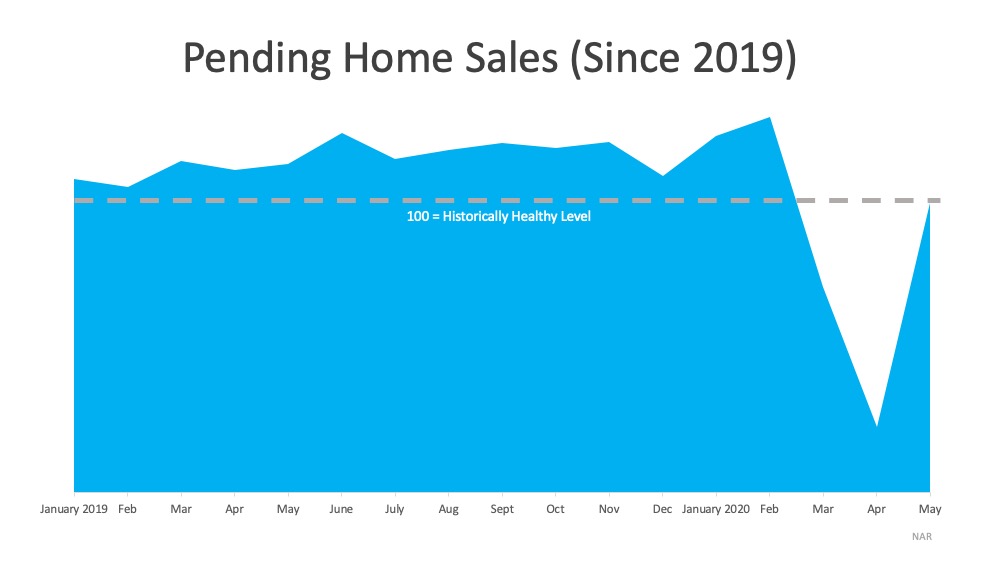 Here on Cape, pending sales are lagging behind national statistics, but appear to be on the rebound.
As we move through the year, experts say we should see an increase in the number of houses being built. This will address a small portion of the inventory deficit. The lack of overall inventory here on Cape, as well as in many other places across the country, is creating an opportunity for homeowners, who are ready to make a move.
If you decided not to sell this spring because of the virus, maybe it's time to get in the market, while buyers are still actively looking for homes.
Let's connect today to discuss your best move forward. We can meet virtually or at a safe distance. Please contact us at 508-568-8191 or msennott@todayrealestate.com. Thanks.
Stay healthy. Stay optimistic.
Mari and Hank