Whether it's for financial or health-related circumstances, or simply because you've reached a new phase in your life, you might be wondering if living with multiple generations under the same roof is the right move. Many have have found themselves in similar situations and have found that living in a multigenerational home is a good idea.
What Is a Multigenerational Home?
The Pew Research Center defines a multigenerational household as a home with two or more adult generations. They include households with grandparents and grandchildren under the age of 25. As you weigh your options and decide if multigenerational living is right for you, here's some helpful information including testimony from homeowners living with additional loved ones.
The Benefits of Multigenerational Living
A recent report from Generations United surveyed individuals living in a multigenerational setting and asked them about the key benefits of this arrangement. It says: "Nearly all Americans who live in multigenerational households (98%) feel their household functions successfully citing various aspects of home design, family relationships and interactions, and supports and services influencing their success."
The study identifies some of the top benefits of this lifestyle including an improved financial situation, better mental and physical health, and strengthened bonds with loved ones.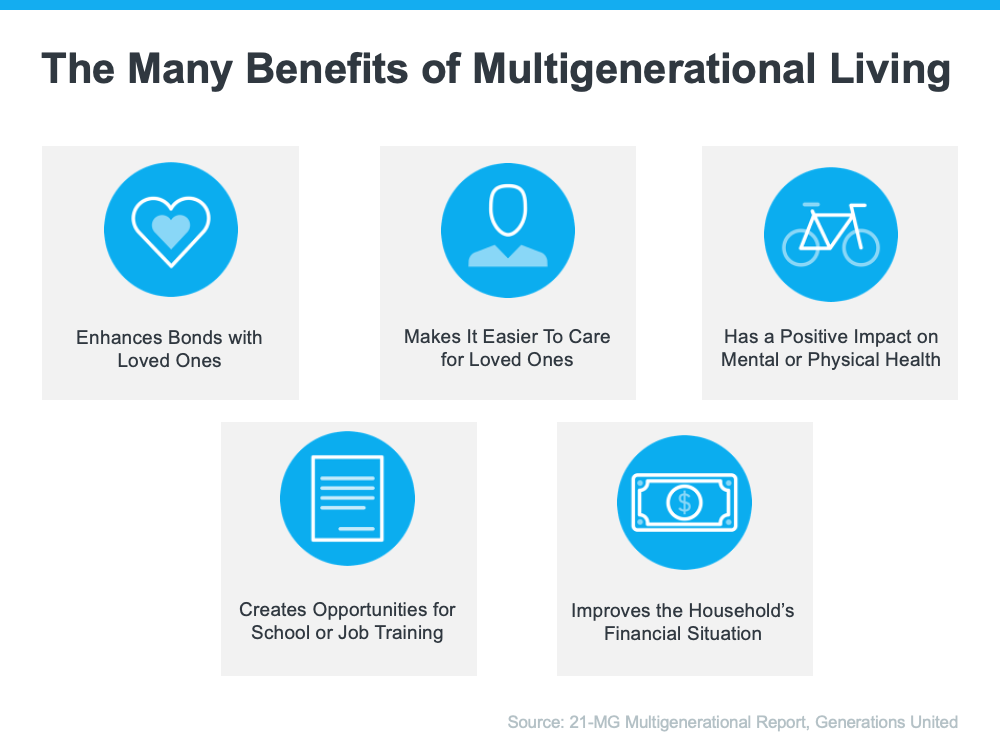 Those are just some of the reasons why most people who decide to live in this situation find it worthwhile. As Donna Butts, Executive Director at Generations United, says: "Families may come together from need, but they are staying together by choice."
With More Adults Living Under One Roof, You May Need More Space
If you decide to look for a multigenerational home, it's important to understand what everyone will need to make the arrangement work to its fullest. Something that often makes the top of the list is additional space for privacy. This could mean more bedrooms and bathrooms or features like an in-law suite or a basement.
If you're still living in a house with several bedrooms where you raised your family, but now only use just a few rooms, your property may be of interest to someone looking for a multi-generation setting. Marketing your home and taking advantage of the equity you have in your house could help you finance your next move to a smaller home or a condo.
Curious about multigenerational living and your options as either a buyer or seller? We'd be happy to answer your questions. Let's connect at 508-360-5664 or msennott@todayrealestate.com.
It's important that you have the right information to make an educated and informed decision.
Mari and Hank