Everyone is ready to buy a home at different times in their lives. Despite the virus crisis, these days are no exception. Understanding how affordability works and the key market factors that impact it may help those of you who are ready to buy a home take advantage of today's prime opportunity.
These are three main factors that go into determining how homes are affordable:
Mortgage Rates
Mortgage Payments as a Percentage of Income
Home Prices
The National Association of Realtors (NAR), produces a Housing Affordability Index, which takes these factors into account and determines an overall affordability score for housing.
The higher the index, the more affordable it is to purchase a home. Below is a graph of the index going back to 1990. The green bar represents today's affordability. You can see that homes are more affordable now than they have been at any point since the housing crash, when distressed properties (foreclosures and short sales) dominated the market. Those properties were sold at large discounts never seen before in the housing market.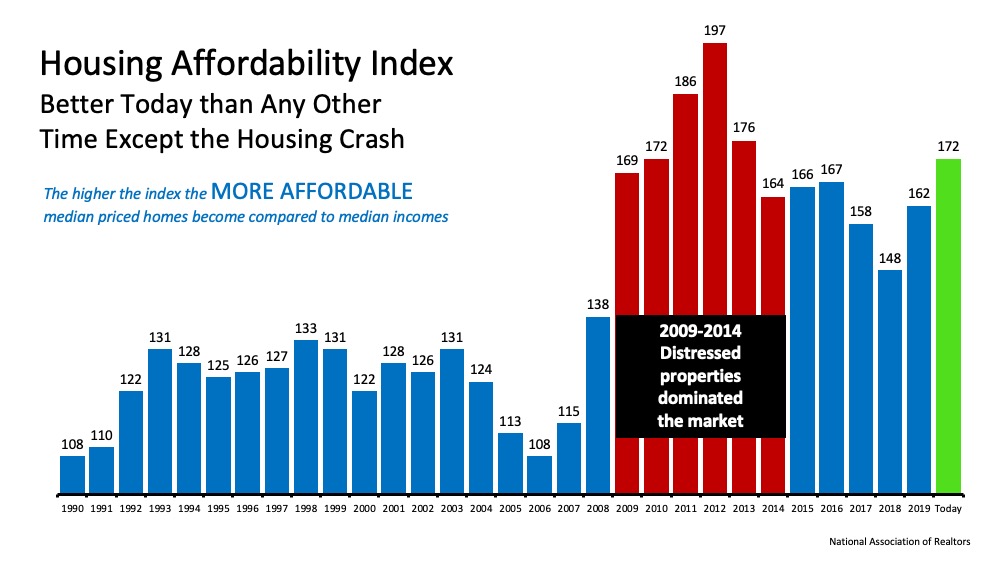 Although there are three factors that drive the overall equation, the one that's playing the largest part in today's home buying affordability is historically low mortgage rates. It is more affordable to buy a home today than at any time in the last seven years.
If you're considering purchasing your first home or moving up to the one you've always hoped for, it's important to understand how affordability plays into the overall cost of your home. With that in mind, buying while mortgage rates are as low as they are may save you quite a bit of money over the life of your home loan.
Let's connect to discuss your options. We can do so at a safe distance or via technology. You can reach us at 508-568-8191 or msennott@todayrealestate.com.
---
As regular readers of this bog know, we donate $200.00 from each closing to a non-profit suggested by one of our clients.
With last week's closing, we are happy to make a donation to the Matthew 25 Fund at Christ the King Parish in Mashpee. The fund supports the parish's food pantry.
That brings our total donations to $3,000.00 for the year. (With more to come…)
We also support the Clearwater Marine Aquarium in Clearwater, FL. Home to Winter and Hope of "Dolphin Tale" movie fame, it's a favorite of our granddaughter. We had plans to take her there this year, but the trip has fallen prey to the virus crisis.
If there's a non-profit that's near and dear to your heart that you'd like us to add to our donation list, please contact Hank at hsennott@todayrealestate.com. Thanks…
Stay healthy. Stay optimistic.
Mari and Hank