One of the major story lines over the last year is how well the residential real estate market has performed. One key metric in the spotlight is home price appreciation.
Here are the latest percentages showing the year-over-year increase in home price appreciation:
The dramatic increases are seen at every price point and in all regions of the country.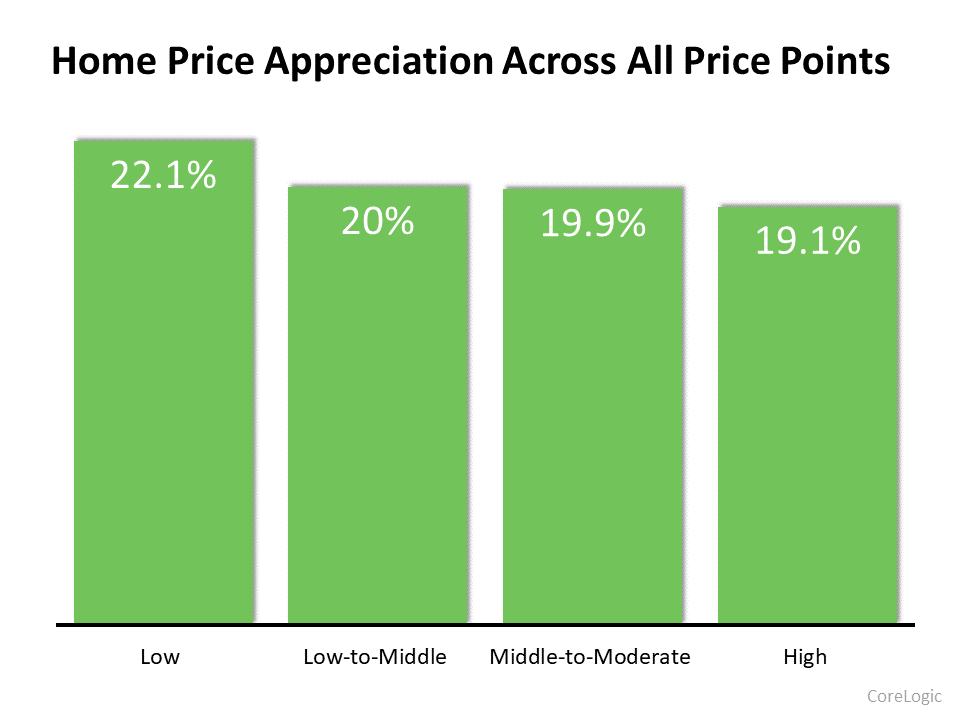 According to the latest Home Price Index from CoreLogic, each price range is seeing at least a 19% increase year-over-year.
Every region in the country is also experiencing at least a 14.9% increase in home price appreciation, according to the Federal Housing Finance Agency (FHFA).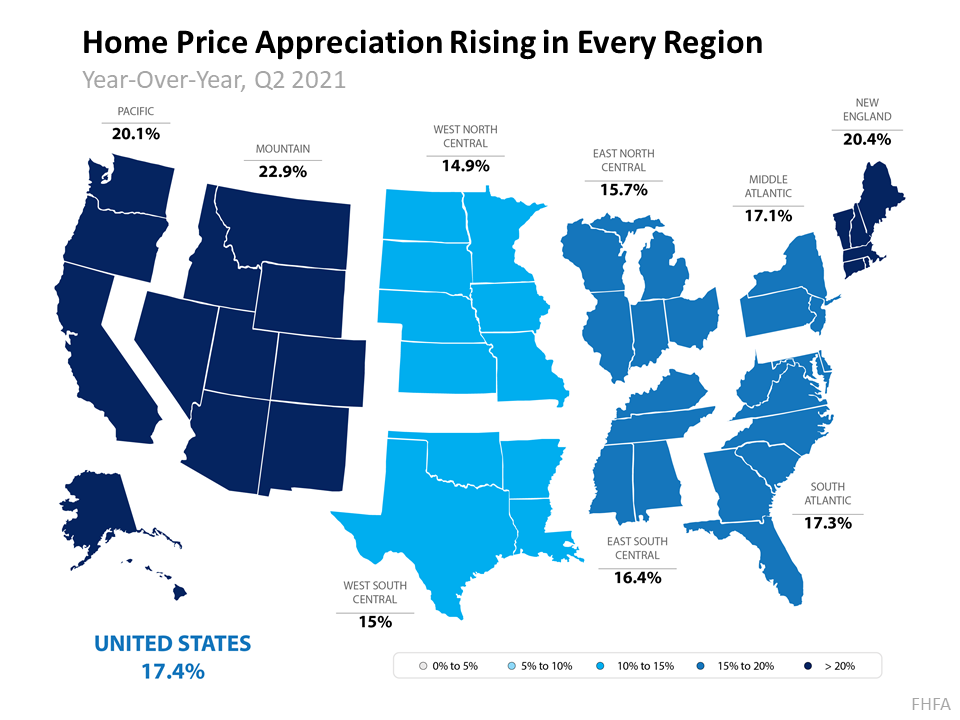 What About Price Appreciation in 2022?
Prices are the result of the balance between supply and demand. The demand for single-family homes has been strong over the last 18 months. The supply of houses available for sale has been near historic lows. However, there's some good news on the supply side. Realtor.com reports: "432,000 new listings hit the national market in August, an increase of 18,000 over last year."
There will, however, still be a shortage of supply compared to demand in 2022. CoreLogic says that "given the widespread demand and considering the number of standalone homes built during the past decade, the single family market is estimated to be undersupplied by 4.35 million units by 2022."
On Cape Cod, supply continues to lag. There were 535 homes for sale last month. In August 2020, there were 1,050. August 2019? 2,082.
Even with supply continuing to be less than demand, the percentage of list price received continues to drop. In August, that number was 100.5%. In July, it was 103.6%. June's number was 104.3%. This confirms what we've been reporting anecdotally that the market has calmed down and the mind boggling offers of February through May are disappearing.
Most forecasts call for home price appreciation to moderate in 2022. The Home Price Expectation Survey, a survey of over 100 economists, investment strategists, and housing market analysts, calls for a 5.12% appreciation level next year. Here are the 2022 home appreciation forecasts from the four other major entities:
Price appreciation is expected to slow in 2022 when compared to the record highs of 2021. However, it is still expected to be greater than the annual average of 4.1% over the last 25 years.
What does this mean?
If you owned a home over the past year, you've seen your household wealth grow substantially, and you'll see another nice boost in 2022. If you're thinking of selling, you'll still receive a solid return on your investment as percentage of list price received is still higher than a year ago. (96.1%). But don't expect that head scratching price your neighbor received just a few months ago.
If you're thinking of buying, consider making your move now as prices are forecast to continue increasing through at least 2022. If you dropped out earlier this year, because competition was pushing you beyond your budget, the market may be coming back to you.
Curious about your options? Helping our clients make the best decisions for their individual situations has been our full time job for 22 years. Let's connect at 508-568-8191 or msennott@todayrealestate.com. We're happy to help…
Mari and Hank