If you've been following the housing market over the last couple of years, you're likely aware of the growing concern about home affordability.
But according to experts, the key factors that determine housing affordability are projected to improve this year.
The three measures used to establish home affordability are home prices, mortgage rates, and wages. Here's a closer look at each one.
1. Mortgage Rates
Mortgage rates shot up to over 7% last year, causing many buyers to put their plans on hold. But things are looking different today as rates are starting to come down.
According to Cape Cod Five's Patti Lotane: "Conforming rates have dropped over the past couple of months. At the end of October we were seeing a 30 year fixed rate for a primary residence at 6.375%/APR 6.431. Last week we were offering a rate at 5.625% /APR 5.679 for our 30 year fixed rate option."
If you're waiting for rates to drop even further, as some potential buyers have told us, keep in mind that these current numbers are comparable to pre-pandemic figures that no one was claiming were too high. Those 3% rates were a once in a lifetime opportunities.
So, if 7% rates paused your homebuying plans last year, this could be the opportunity you need to get back in the game.
2. Home Prices
The second factor at play is price. Home prices have made headlines over the past few years because they skyrocketed during the pandemic. According to Lawrence Yun, Chief Economist at NAR: "After a big boom over the past two years, there will essentially be no change nationally…Half of the country may experience small price gains, while the other half may see slight price declines."
Here on Cape, the median sales price for a single family home peaked in July 2022 at $710,751.00. In January it was $659, 500.00. By December prices were lower than when the year began. ($650,000.00)
3. Wages
The final component in the affordability equation is wages. The graph below uses data from the Bureau of Labor Statistics (BLS) to show how wages have increased over time: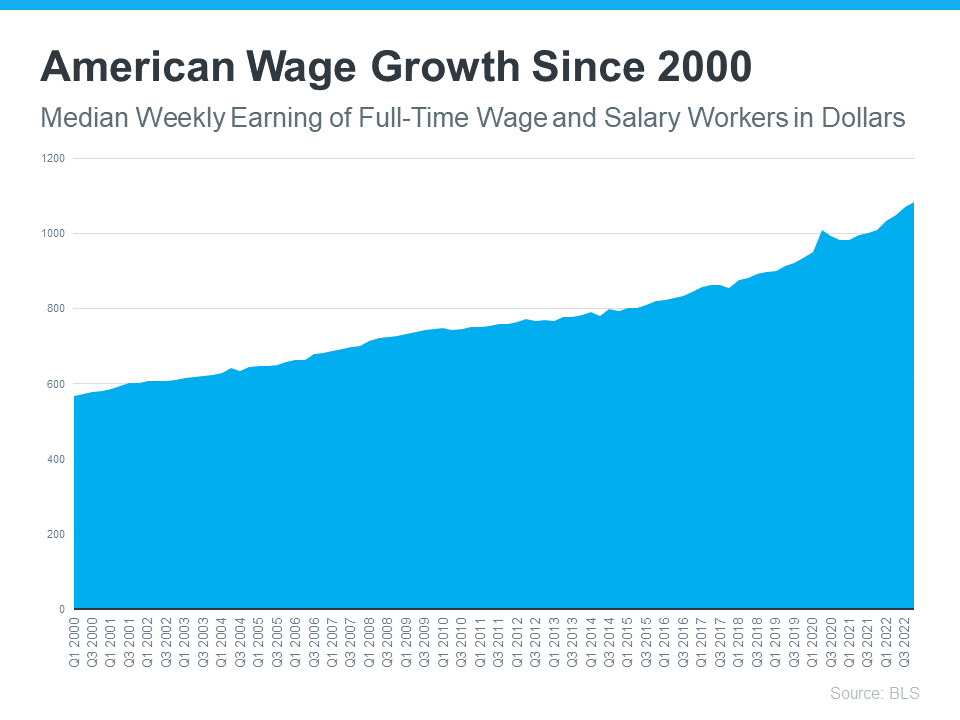 Also, according to the Bureau, the average weekly wage for Barnstable County/Cape Cod is $1,129 or $58,708 per year. The national figure is $1,374.
Don't forget, as Cape Cod Five's Lotane notes, that the affordability of a monthly mortgage payment can also be influenced by down payment, credit score, and other monthly debts.
Bottom Line
While affordability hurdles are not completely going away this year, based on current trends and projections, 2023 should bring some relief to homebuyers who have faced growing challenges. According to Mike Fratantoni, Chief Economist at the Mortgage Bankers Association (MBA): "Rates are expected to move lower for the year, and home price growth is expected to cool, both of which will help affordability challenges."
Buying a home is a scary proposition no matter the economic situation. There always seems to be as many reasons to purchase, as there are not to. (And well meaning relatives and friends telling you to keep renting or sleeping in your in-law's basement one more year.)
Before making your decision it's important to have the advice of respected realtors (like Mari Sennott Plus) and trusted lenders (like Cape Cod Five's Lotane.)
If you have questions, let's connect at 508-360-5664 or msennott@todayrealestate.com.
You may be closer to owning a home than you think.
Mari and Hank