We can all agree that the costing of housing is high. If you're renting, there's a chance you're paying more than what a mortgage payment would be, if you owned your own home.
And as has been said many times, your rent is actually your landlord's mortgage payment.
As a renter, you face an important decision every year: renew your current lease, start a new one, or maybe buy a home. 2023 is no different. But before making the decision to rent again, it helps to understand the true costs of doing so.
In the past year, both current renters and new renters have seen their rent go up. According to realtor.com: "Three out of four renters (74.2%) who have moved in the past 12 months reported seeing their rent increase. The strain from recent rent hikes isn't exclusive to renters, who have recently moved. Nearly two-thirds of renters (63.2%), who have lived in their current rental between 12 and 24 months, and likely renewed their lease, have also reported increases in their rent."
If you look at historical data, that shouldn't come as surprise. That's because, according to the Census, rents have been rising fairly consistently since 1988 (see graph below):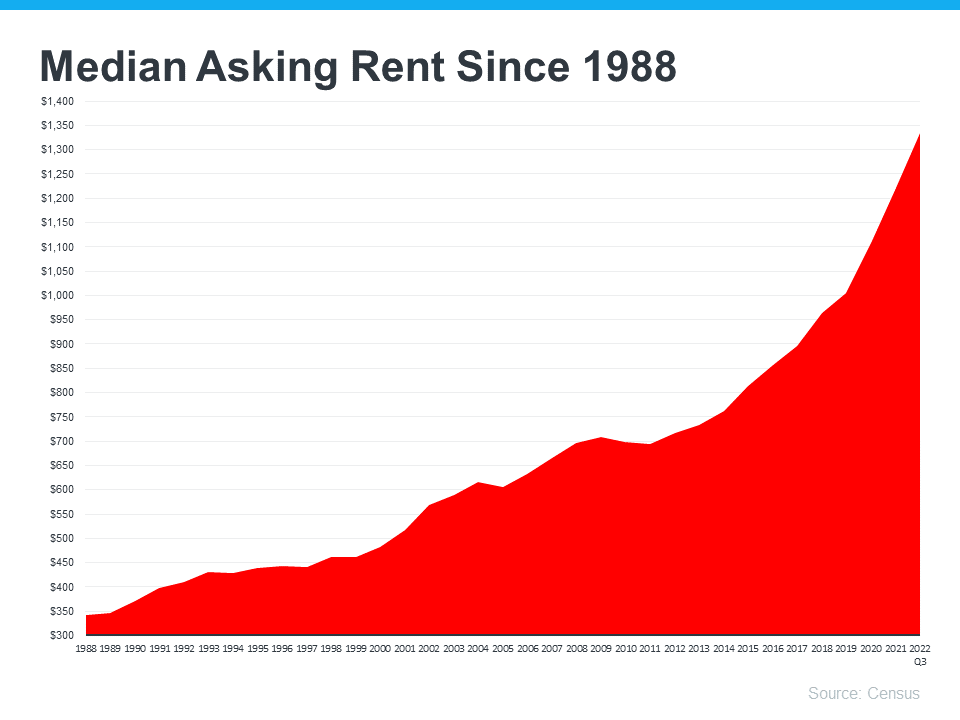 So, if you're considering renting as an option in 2023, it's worth weighing whether this trend is likely to continue. The 2023 Housing Forecast from realtor.com expects rents will keep climbing (see graph below):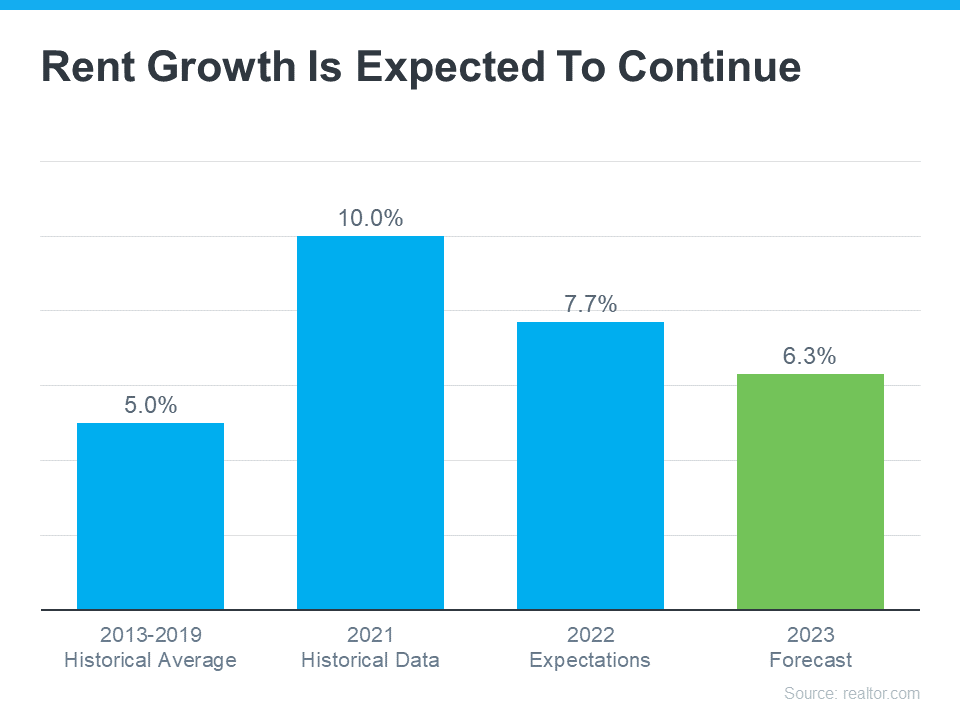 This forecast projects that rents will increase by 6.3% in the year ahead (shown in green). When compared to the blue bars in the graph, it's clear that the 2023 projection doesn't call for an increase as drastic as the ones renters have seen over the past two years, but it's still above the historical average for rent hikes between 2013-2019.
That means, if you're planning to rent again this year and you've not yet renewed your lease, you may pay more when you do.
Homeownership Provides an Alternative to Rising Rents
These rising costs may make you consider what other alternatives you have. If you're looking for more stability, it could be time to prioritize homeownership. One of the many benefits of owning your own home is that it provides a stable monthly cost that you can lock in for the duration of your loan. As Freddie Mac says: "Monthly rent payments may increase over time, but a fixed-rate mortgage will ensure that you're paying the amount each month."
Homeowners also enjoy the added benefit of home equity, which has grown substantially. In fact, the latest Homeowner Equity Insight report from CoreLogic shows the average homeowner gained $34,300 in equity over the last 12 months. As a renter, your rent payment only covers the cost of your dwelling. When you pay your mortgage on a house, you grow your wealth through the forced savings that is your home equity.
There are two stumbling blocks that those thinking about buying often mention to us: interest rates and down payments.
But the facts are these: current interests rates are at or near pre-pandemic levels and no one was suggesting back then that they were too high.
The days of needing 20% for a down-payment are also long gone. For first time home buyers, the amount can be as little as 6%!
Is it time for you to break the rental cycle? If it is, please connect with us at 508-360-5664 or msennott@todayrealestate.com. We can help you put together a plan to get you on the road to homeownership and financial stability. Thanks…
---
We're not ones to brag, but our completed number of transactions for 2022 (29) made us the number one agents in the Sandwich office of Today Real Estate. According to the National Association of Realtors, the average realtor in the U.S. completes four transactions per year.
We're grateful for the trust so many families placed in us last year and are excited about the opportunity to help many more the year ahead. Let us know how we can help.
Mari and Hank