The year just ended has been full of surprises. While those who truly knew the real estate business always understood that the market would lead the economic way out of the virus crisis, we're not sure how many predicted the dramatic rise in prices and drop in inventory.
Nationally, home values increased by 8.2% over the last 12 months. On Cape Cod, the median sales price for a single family home rose nearly 18%!
The stunning increase came about as inventory reached historic lows at the same time buyer demand was buoyed by record-low mortgage rates. As CoreLogic explained:
"Home price growth remained consistently elevated throughout 2020. Home sales for the year are expected to register above 2019 levels. Meanwhile, the availability of for-sale homes has dwindled as demand increased and coronavirus (COVID-19) outbreaks continued across the country, which delayed some sellers from putting their homes on the market.
On Cape demand also increased as urban dwellers – many allowed to work remotely for the first time – looked for greater square footage, fresher air, and more opportunities for recreation.
Where will home values go in 2021?
Housing Supply
According to the National Association of Realtors (NAR), the current number of single-family homes for sale is 1,080,000. At the same time last year, that number stood at 1,450,000. Nationwide, we are entering 2021 with approximately 370,000 fewer homes available for sale than there were one year ago.
On Cape, there were 542 homes for sale in December; that's down from 1,369 a year ago — a 60% decrease!
There is some speculation that the inventory crush will ease somewhat as we move through the new year for two reasons:
1. As the health crisis wanes, more homeowners will be comfortable putting their houses on the market.
2. Some households impacted financially by the pandemic will — unfortunately — be forced to sell.
Housing Demand
Low mortgage rates have also driven buyer demand over the last 12 months. According to Freddie Mac, rates stood at 3.72% at the beginning of 2020. We're starting 2021 with rates one full percentage point lower than that. Low rates create a great opportunity for home buyers, which is one reason why demand is expected to remain high throughout the new year.
Taking into consideration these projections on housing supply and demand, analysts project that homes will continue to appreciate in 2021, but that appreciation may be at a steadier pace than last year. Here are their forecasts: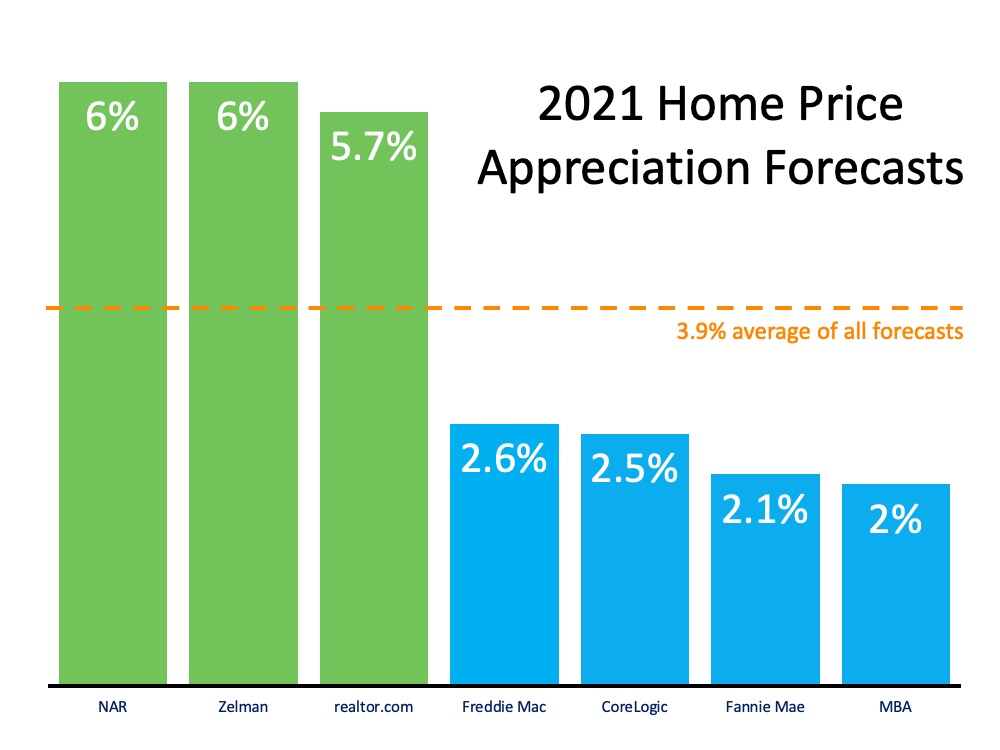 There's still a very limited number of homes for sale for the great number of purchasers looking to buy. As a result, the concept of "supply and demand" mandates that home values iwill continue to appreciate.
If you're looking to buy, waiting for prices to drop is a strategy that will only cost you money. While supply is limited, there are houses available for those who are pre-approved and have a clear understanding of what they're looking for in a new home.
For potential sellers: what are you waiting for?????
Helping our clients make the best decisions for their personal situations has been our full time job for 21 years, not a part time hobby. If you're interested in reviewing your options, let's connect at 508-568-8191 or msennott@todayrealestate.com to start the conversation.
Don't wish for it. Go for it!
Mari and Hank