A recession does not equal a housing crisis. That's the one thing that every homeowner today needs to know. Everywhere you look, experts are warning we could be heading toward a recession. If true, an economic slowdown doesn't mean homes will lose value.
The National Bureau of Economic Research (NBER) defines a recession this way: "A recession is a significant decline in economic activity spread across the economy. A recession begins when the economy reaches a peak of economic activity and ends when the economy reaches its trough. Between trough and peak, the economy is in expansion."
To illustrate that home prices don't fall every time there's a recession, let's take a look at the historical data. There have been six recessions in this country over the past four decades.
As the graph below shows, looking at the recessions going all the way back to the 1980s, home prices appreciated four times and depreciated only two times. So, historically, there's proof that when the economy slows down, it doesn't mean home values will fall or depreciate.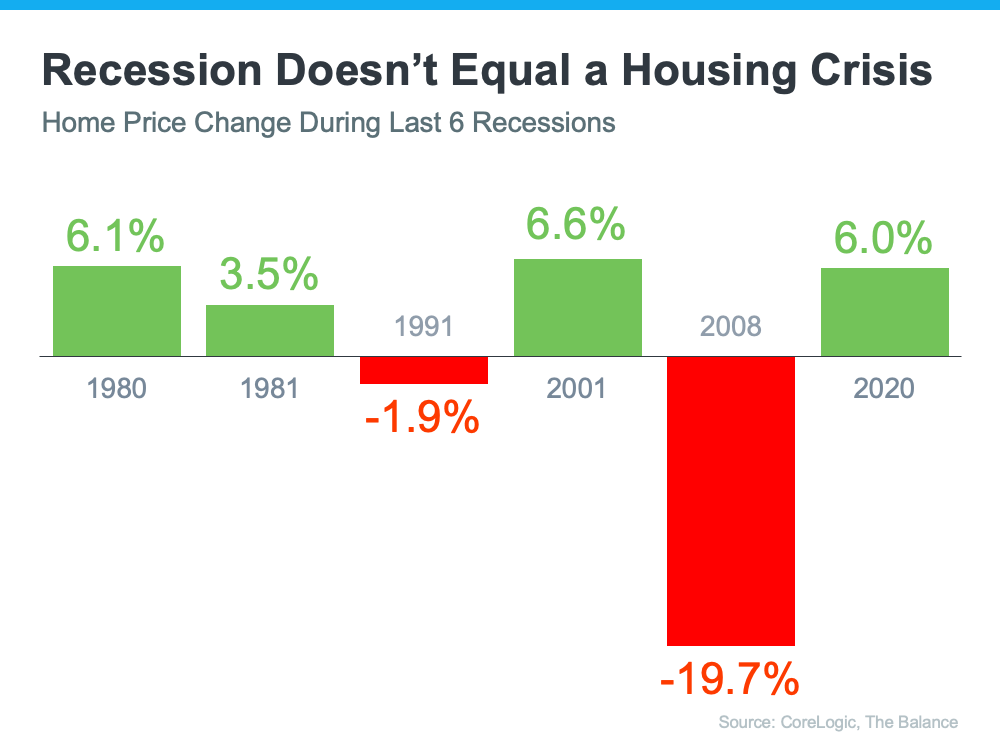 The first occasion on the graph when home values depreciated was in the early 1990s when home prices dropped by less than 2%. It happened again during the housing crisis in 2008 when home values declined by almost 20%.
Most people vividly remember the housing crisis in 2008 and think if we were to fall into a recession that we'll repeat what happened then. But this housing market isn't a bubble that's about to burst. The fundamentals are very different today than they were in 2008. So, we shouldn't assume we're heading down the same path.
The housing crisis in 2008 was caused by too many homeowners being over-leveraged and having little or no equity in their properties. They found themselves "under-water" when their balloon mortgage payments exploded. That's simply not the case today. According to ATTOM Data Services 41.9% of all mortgaged homes have at least 50% equity.
As long as inventory remains tight and demand strong, prices will continue to be high. They may level off, but are not expected to decrease in any significant way.
For buyers your bottom line is this: you're paying somebody's mortgage. It can either be yours or your landlords.
For potential sellers don't wring your hands and ask "But, where can we go?" Ask yourself what we've always asked ourselves when we decided to make a move: "Where do I want to go?"
That's what we did and we're closing on the sale of our home and buying a new one within the next few weeks.
Curious about your options? We'd be happy to answer your questions. Let's connect at 508-360-5664 or msennott@todayrealestate.com.
It's important you have the correct information to make the best decisions.
Mari and Hank