Every time there's a news segment about the housing market, we hear about the affordability challenges facing today's buyers. Those headlines are focused on how much mortgage rates have climbed this year. And while it's true rates have risen dramatically, they've also dropped to much less media coverage and comment.
But, it's important to remember that mortgage interest rates aren't the only factor in the affordability equation.
Here are three measures used to establish home affordability: home prices, mortgage rates, and wages. Let's look closely at each one.
1. Mortgage Rates
This is the factor most people are focused on when they talk about homebuying conditions today. So far, current rates are almost four full percentage points higher than they were at the beginning of the year. As Len Kiefer, Deputy Chief Economist at Freddie Mac, explains: "U.S. 30-year fixed mortgage rates have increased 3.83 percentage points since the end of last year."
The increase in mortgage rates is impacting how much it costs to finance a home purchase, creating a challenge for many buyers as it's pricing some out of the market. While the current global uncertainty makes it difficult to project where mortgage rates will go in the future, experts do say that rates will likely remain high as long as inflation does.
But, it's important to remember that individual lenders offer different rates and different options. You have many potential sources for your mortgage from banks, to mortgage finance companies and credit unions. Be sure to shop them all before deciding what you can or can't afford.
2. Home Prices
The second factor at play is home prices. Home prices have made headlines over the past few years, because they skyrocketed during the pandemic. nationally have decelerated for a fifth consecutive month. (shown in green in the graph below):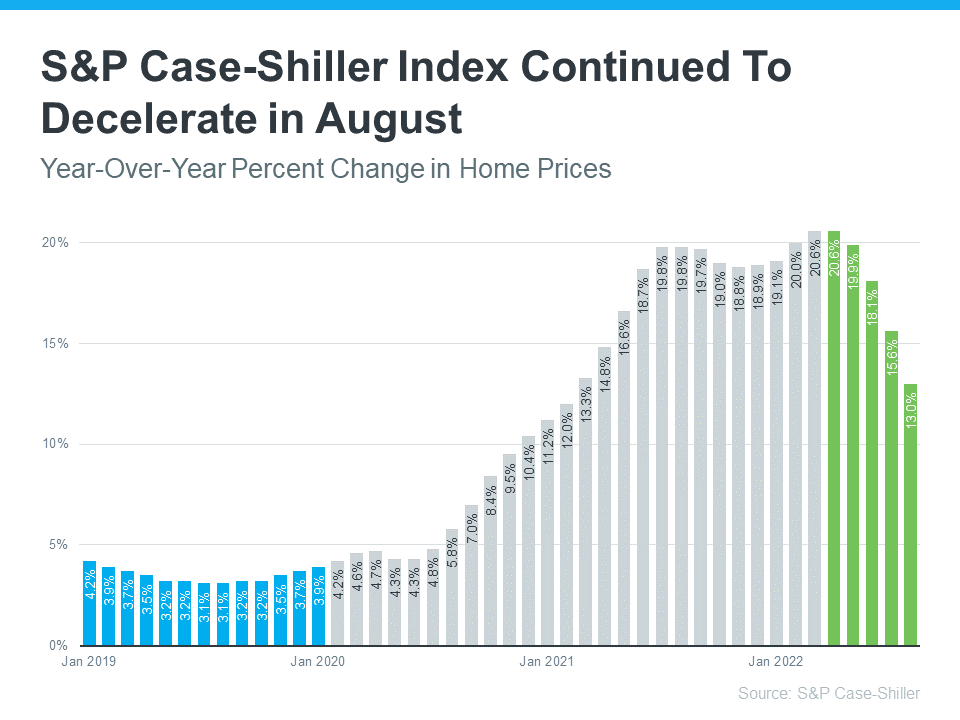 This deceleration is happening, because higher mortgage rates are moderating demand, and as a result, easing the buyer competition and bidding wars that previously drove prices up.
What's worth noting though, is how much higher home prices still are than they were before the pandemic (shown in blue in the graph above). Even now, we have a long way to go to get to more normal levels of home price appreciation, which is historically closer to 4%. When both mortgage rates and home prices are high, affordability and your purchasing power become a greater challenge.
But while prices are still elevated in many markets, some areas are seeing slight declines. It all depends on your local market.
On Cape Cod, prices are moderating. Property is not being sold in a weekend and there are more price reductions. Those crazy bidding wars seem to be over. Open houses have returned to normal as those lines down the driveway are gone. Sellers are seeing more competition from their neighbors.
3. Wages
The one big, positive component in the affordability equation is the increase in wages. The graph below uses data from the Bureau of Labor Statistics (BLS) to show how wages have grown over time. This year is no exception.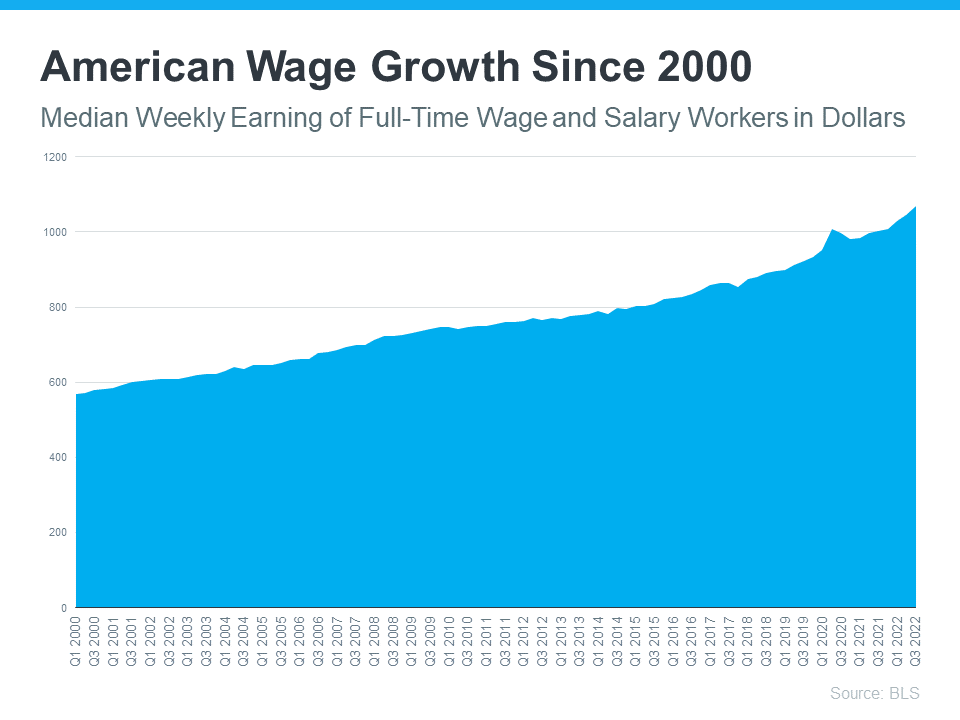 As the Bureau of Labor Statistics (BLS) reports: "Median weekly earnings of the nations 120.2 million full-time wage and salary workers were $1,070 in the third quarter of 2022. This was 6.9% higher than a year earlier."
So, when you think about affordability, remember the full picture includes more than just mortgage rates. Home prices and wages need to be factored in as well. Because wages have been rising, they're a big reason why serious buyers are still active.
The decision to buy is not as simple as the so called experts and commentators would like the public to believe.
It's important to work with a reputable lender, who can keep you appraised about the impact mortgage rates are having on what you can afford. If you're not connected with a lender, we can put you in touch with several who we work with.
If you're looking to sell, as well as buy, you should know the value of your current property. Please visit our website to find out what your home is worth and how much equity you may have.
Finally, please sit down with us to review your options whether buying, selling, or both. Let's connect at 508-360-5664 or msennott@todayrealestate.com.
Earlier this year, we sold our home and bought something that better suits our lifestyle. So, hopefully our experience can help you make the best decisions for your situation. Talk soon…
Mari and Hank