The increase in interest rates has started to slow the overheated housing market as potential monthly mortgage payments have pushed — at least temporarily — some buyers to the sidelines. This is leaving some people, who want to purchase a home or sell their current one, wondering if now is really the right time.
If this sounds like you, here are two questions you should be asking yourself.
1. Where Do I Think Home Prices Are Heading?
There are two places to turn for answers to this question. If you look at what experts are projecting for home prices in 2023, they're forecasting home price appreciation around 2%. While it's true that a few are calling for depreciation, most are calling for appreciation in home values over the next year.
The second spot to turn to for information is the Home Price Expectation Survey from Pulsenomics – a survey of a national panel of over one hundred economists, real estate experts, and investment and market strategists. According to the latest release, the experts surveyed are also calling for home price appreciation for the next several years (see graph below):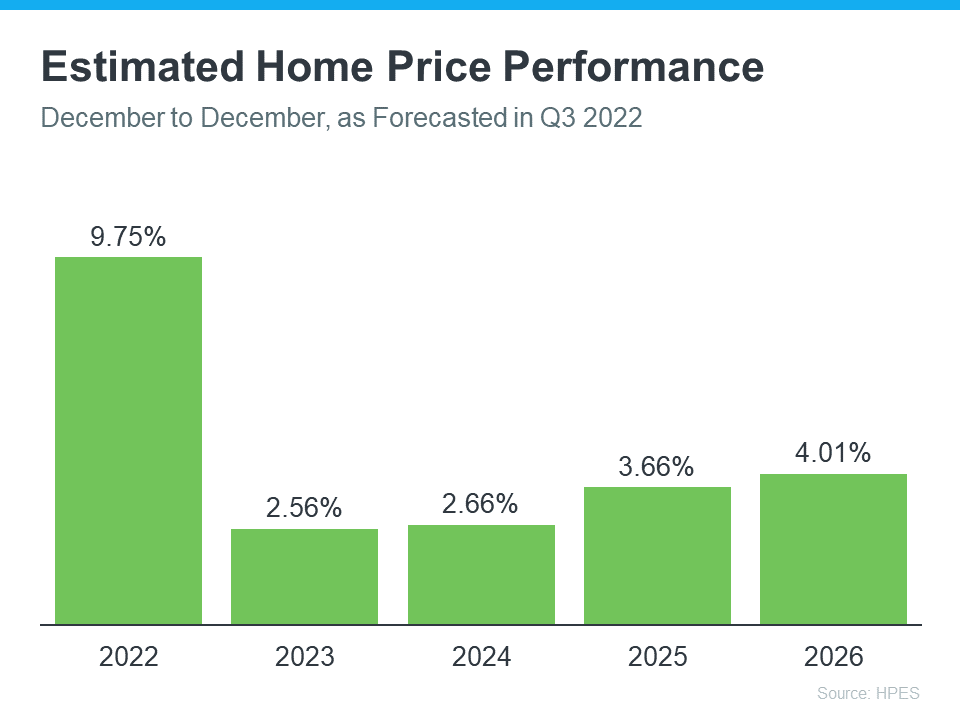 2. Where Do I Think Interest Rates Are Heading?
Most experts see mortgage rates rising over the next several months. According to Mark Fleming, Chief Economist at First American: "While mortgage rates are expected to continue to drift higher over the coming months, much of the rapid increase in rates is likely behind us."
To date, we've seen mortgage interest rates generate head-line grabbing increases only to inch back with little or no fanfare. It's important to remember that mortgage rates remain lower than they have in years, and while they won't return to historical lows, rates also won't spike to the historic highs of the late 90s.
Buyers should keep in close contact with their lenders to stay up-to-date on what they can afford.
If you're thinking about buying a home, asking yourself about prices and mortgage rates will help you make a powerful and confident decision. The alternative is renting, but they're also increasing and are often higher than what your mortgage could be. That may mean buying a home makes more sense. And don't forget that when you rent, you're really just paying your landlord's mortgage. So, you might as well pay your own.
Questions? We're happy to sit down with you and review your options. We can also put you in touch with qualified lenders, who can discuss with you financial options. It's important that you speak with experts in order to make an informed decision and not your Mother's cousin Gretchen, who sold a few houses 20 years ago.
So, let's connect at 508-360-5664 or msennott@todayrealestate.com. Let's talk soon…
Mari and Hank