You've been saving for a down payment to buy a home. You know this is the time to take advantage of historically low mortgage interest rates. But, with escalating prices and bidding wars for the limited number of properties currently available, you may be worried that you just don't have enough money to make a successful offer.
But, hold the phone.
That 20% down payment your Uncle Harry, "who knows a little something about real estate," has been telling you about????
It hasn't been true for years!
The reality is — whether you're looking for your first home or you've purchased one before — you most likely don't need to put 20% down.
Data in the 2020 Profile of Home Buyers and Sellers from the National Association of Realtors (NAR) indicates that the median down payment actually hasn't been over 20% since 2005, and even then, that was for repeat buyers, not first-timers. As the image below shows, today's median down payment is clearly less than 20%.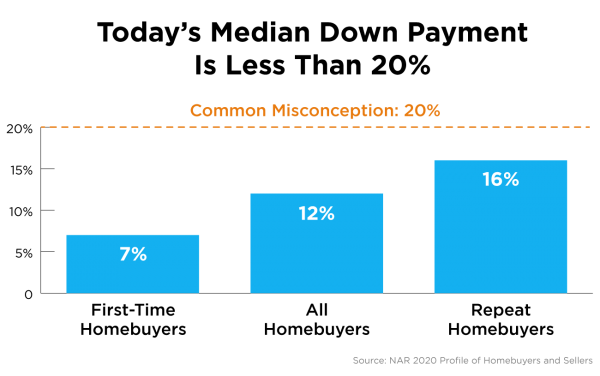 What does this mean for home buyers?
The median down payment was lowest for first-time buyers with the 2020 percentage coming in at 7%. If you're a first-time buyer and putting down 7% still seems high, understand that there are programs that allow qualified buyers to purchase a home with a down payment as low as 3.5%. There are even options like VA loans and USDA loans with no down payment requirements for qualified applicants.
While it's likely that you won't need to put down 20% of the purchase price, you do need to do your homework. Meet with a qualified and reputable lender to review your options before starting your search.
Don't let the 20% down payment myth keep you from hitting your home ownership goals. If you're hoping to buy a home this year, let's connect to review the possibilities. If you don't know a qualified lender, we can offer some suggestions.
Let's talk soon…
Don't wish for it; go for it!
Mari and Hank
msennott@todayrealestate.com – 508-568-8191